Champagne & strawberry cassis cocktail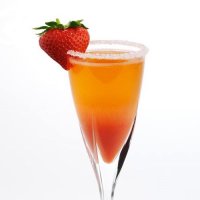 A deliciously refreshing cocktail fit for a queen.
What you need:
750g Jubilee Strawberries, washed and hulled
200ml white, neutral spirit such as gin or vodka
100g caster sugar, plus extra for the rim of the glass
200ml water
Champagne
Mint leaves and strawberries, to decorate
Juice from 1 lemon
What you do:
Pour the strawberries and alcohol in a large pan or bowl and using a masher, extract all of the strawberry juice from the strawberries (or alternatively, you can use a hand blender here). Use a very fine sieve to strain and remove all of the seeds and larger pieces of fruit.
In a separate pan, dissolve the sugar in water over a low heat, then gently simmer for 5-10 minutes, or until a thick syrup forms. Set aside to cool.
In small stages, slowly add the sugar syrup to the strawberry mixture, tasting and checking for the correct sweetness as you go. Pour into a bottle and seal until needed (this will improve with age).
When ready to serve, squeeze the lemon juice into a bowl and turn each champagne flute upside down so that the rim is lightly coated in the juice. In a separate bowl, sprinkle in some caster sugar and repeat the same method so that that glass rim has a coating of sugar. Pour about 35ml of cassis into the bottom of each champagne flute and top with champagne. Decorate with an extra fresh Jubilee strawberry and mint leaves. Enjoy!
Cook's tip:
Makes 1 litre of cassis
This page can be found at: http://secretsauce.co.uk/drinks/alcoholic-cocktail-recipe/champagne-and-strawberry-cassis-cocktail/
A short link can also be used: http://bit.ly/Nhjqrl
Jubilee Strawberries

There are over 30 home-grown varieties of strawberries….but only one stands head and shoulders above the rest! When you spot the Driscoll Jubilee name upon your punnet of strawberries, you can be sure to discover a sweeter and much more flavoursome variety every single time.
More from Jubilee Strawberries

These just look so good, don't they? And they're easy to make and delicious too

A delicious light meal with a fruity twist, perfect for those warm summer evenings

A gorgeous cupcake perfect for summer - light and fruity!
Popular in alcoholic cocktail recipe

A blast from the past goes Cuban! A slightly more sophisticated version of that Latin crushed ice favourite.

Here the punchy notes of the juniper are really bolstered by the rich fruity blackcurrant of creme de cassis.

This refreshing gin fizz cocktail was created exclusively for Jacksons of Piccadilly by food writer Ghillie James