Strawberries with Parma ham, melon and mozzarella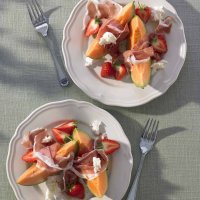 A delicious light meal with a fruity twist, perfect for those warm summer evenings
Cooking: 15 mins
Serves: 6
What you need:
9 strawberries, hulled and quartered
1 melon (such as cantaloupe) cut into 12 slices, seeds removed
12 slices of parma ham
2 x buffalo mozzarella, torn into small pieces
freshly ground black pepper
Extra virgin olive oil, for drizzling
What you do:
Arrange the fruit, parma ham and mozzarella on to plates or a platter.
Drizzle with olive oil and season with freshly ground black pepper, to serve
Cook's tip:
Prepare the fruit and ham up to 4 hours ahead, cover and chill.
Serve at room temperature.
This page can be found at: http://secretsauce.co.uk/cakes-desserts/strawberry-recipes/strawberries-with-parma-ham-melon-and-mozzarella/
A short link can also be used: http://bit.ly/liAoaL
Jubilee Strawberries

There are over 30 home-grown varieties of strawberries….but only one stands head and shoulders above the rest! When you spot the Driscoll Jubilee name upon your punnet of strawberries, you can be sure to discover a sweeter and much more flavoursome variety every single time.
More from Jubilee Strawberries

These just look so good, don't they? And they're easy to make and delicious too

A deliciously refreshing cocktail fit for a queen.

A gorgeous cupcake perfect for summer - light and fruity!
Popular in strawberry recipes

Macaroons are the perfect dessert to follow a romantic dinner - the perfect treat!

Viva strawberries and chocolate are a match made in heaven and make a delicious treat and a healthier alternative to a bar of chocolate.

These just look so good, don't they? And they're easy to make and delicious too