Strawberry & coconut ice lollies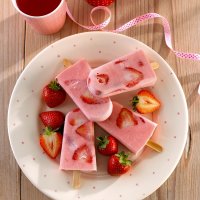 These just look so good, don't they? And they're easy to make and delicious too

Preparation: 20 mins
Serves: 8

What you need:

400g strawberries, washed and hulled
3 tbsp. icing sugar, sieved
400g coconut Greek yoghurt

What you do:
Using a blender or food processor, puree 200g of the strawberries with the icing sugar. Remove and sieve to remove the seeds.
In a large jug, mix the strawberry puree with the coconut yogurt and fill the lolly moulds. (but not quite to the top)
Slice the remaining strawberries and divide these between the mould, pushing them down carefully so they are evenly distributed throughout the lolly.
Push in the lolly sticks and freeze for at least four hours, or until frozen solid. Warm the moulds with your hands or under warm water to release the lollies.
This page can be found at: http://secretsauce.co.uk/cakes-desserts/strawberry-recipes/strawberry-and-coconut-ice-lollies/
A short link can also be used: http://bit.ly/15zRids
Skandi Candle
Pure soy wax candles in Flack Fig & Vetiver or Lemon fragrances - perfect for any dinner party or romantic night in.
Jubilee Strawberries

There are over 30 home-grown varieties of strawberries….but only one stands head and shoulders above the rest! When you spot the Driscoll Jubilee name upon your punnet of strawberries, you can be sure to discover a sweeter and much more flavoursome variety every single time.
More from Jubilee Strawberries

A delicious light meal with a fruity twist, perfect for those warm summer evenings

A deliciously refreshing cocktail fit for a queen.

A gorgeous cupcake perfect for summer - light and fruity!
Popular in strawberry recipes

Macaroons are the perfect dessert to follow a romantic dinner - the perfect treat!

Viva strawberries and chocolate are a match made in heaven and make a delicious treat and a healthier alternative to a bar of chocolate.

An impressive fruity dessert that's very quick and easy to make