Summer fruit & orange tart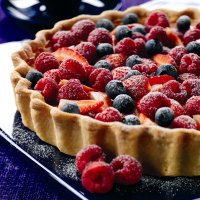 Make the most of summer berries in this spectacular tart and if it's the wrong season for berries, use rhubarb instead
Serves: 6 - 8
What you need:
1 x 500g pack Jus-RolTM All Butter Shortcrust Pastry -thawed
3 eggs
135g/ 5 1/2oz caster sugar
Juice and rind of 2 oranges
125ml / 5fl.oz double cream
225g fresh strawberries - hulled
75 - 100g/ 3-4oz each fresh raspberries and blueberries
Icing sugar for dusting
What you do:
Preheat oven to 200°C/ 180°C for fan assisted ovens/ 400°F/Gas M6
Roll out pastry large enough to line a 23cm/9" flan tin.
Bake blind for approx. 18 minutes, removing beans and paper for final 5-7 minutes. Reduce oven temp. to 160°C/325°F/ Gas M 3
Meanwhile whisk eggs and sugar together until pale, whisk in the finely grated rind and juice of the
oranges. In a separate bowl lightly whip the cream until just holding in peaks, then gently whisk into the egg mixture.
Cut half the strawberries into quarters or 6ths depending on size and scatter over base of flan. Gently pour in the egg mixture into flan and return to the oven to bake for 35- 40 minutes until 'custard' is just set. Remove and cool.
To serve - scatter remaining fruit (quarter the strawberries if desired) over top and dredge with icing sugar.
Variation:
In the early part of the year substitute rhubarb for the berry fruit. Use 400g rhubarb, washed and cut into short lengths. Combine prepared rhubarb with 75g/3oz caster sugar and place in an ovenproof dish, covered. Bake in oven at the same time as the flan case, stirring once or twice and cook until just al dente. Drain off juices (keep these to serve with flan) and scatter approx. one third of fruit over.
This page can be found at: http://secretsauce.co.uk/cakes-desserts/tart-recipes/summer-fruit-and-orange-tart/
A short link can also be used: http://bit.ly/dG4z22
Jus-Rol

Jus-Rol is the UK's pioneering pastry company, committed to providing the highest quality chilled and frozen pastry products. The product range includes ready rolled pastry sheets in both puff and shortcrust pastry, pastry blocks, as well as individual puff pastry rounds, large shortcrust pastry cases and handy pie lids.
More from Jus-Rol

A delicious, fruity dessert - the best in comfort food and just mouth-watering served with a big dollop of creamy custard

This chicken, pesto and spinach tart looks so delicious it seems a shame to cut into it! But once you do, don't expect it to be there for long!

A delicious quick and easy open tart, perfect for a summer lunch or picnic
Popular in tart recipes

A modern take on an old favourite - this no-pastry tart is scrummily sticky with lots of lemon taste to balance its sweetness

Celebrity chef Marcus Wareing's fantastic recipe for baked egg custard tart serves 8, but be prepared for it to only serve 4 because everyone will want a double helping!

Strawberries, cream and a dash of cinnamon - the perfect pudding combination.