Raisin & apple tart with Crottin melts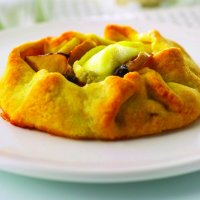 An open apple tart with a modern twist with added raisins and small goat's cheese
Cooking: 60 mins
Serves: 6
What you need:
1 x 375g pack shortcrust pastry, thawed if frozen, or a sheet of ready rolled pastry
3 Granny smith apples
50g light soft brown sugar
50g raisins
large knob butter, about 25g, melted
2 x 60g French Goat's cheese Crottins
What you do:
Roll out the pastry to a large round about 30cm diameter. Using a rolling pin lift onto a baking sheet lined with non-stick baking parchment. It doesn't have to be a neat round. If using ready rolled pastry simply unroll onto the lined baking sheet.
Quarter the apples then cut out the core and slice each quarter thinly. Mix the apple slices in a bowl with the sugar and raisins then pile into the centre of the pastry to within about 5cm of the edge.
Loosely mould the pastry rim over the apples. Melt the butter and brush on top. Allow to rest for 20 minutes whilst you preheat the oven to 190°C, Gas 5, 375°F.
Bake for 20 minutes until the edges become golden brown. Meanwhile, slice each Crottin into 4 or 5 rounds. Place these on top of the apples and return to the oven for another 5-10 minutes until melted. Remove and cool 10 minutes before cutting into wedges.
This page can be found at: http://secretsauce.co.uk/cakes-desserts/tart-recipes/raisin-and-apple-tart-with-crottin-melts/
A short link can also be used: http://bit.ly/z0Yno9
French goat's cheese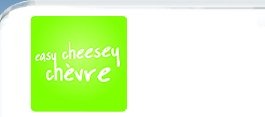 Award-winning chef Sophie Wright is the French goat's cheese Ambassador. She says, "I'm passionate about simple, practical recipes. French goat's cheese is so versatile and easy to use, as it moulds well with lots of food styles. Just pick up some chèvre at your local supermarket or local deli. It can be used to whip up mouthwatering meals at short notice. Ranging from mild to strong, creamy to hard, chèvre is great as a lunchtime treat or a sophisticated dinner party dish."
More from French goat's cheese

These delicious fish cakes have a secret molten fondant of creamy French goat's cheese in the middle, so no need to serve with a sauce!

Selles-Sur-Cher is a dry French goat's cheese packed with flavour which perfectly complements asparagus. This is a perfect starter for any occasion

A warm French goat's cheese salad with pear, endive and pomegranate seeds that's bright and colourful. Perfect as a side dish, starter, main course or lunch.
Popular in tart recipes

A modern take on an old favourite - this no-pastry tart is scrummily sticky with lots of lemon taste to balance its sweetness

Celebrity chef Marcus Wareing's fantastic recipe for baked egg custard tart serves 8, but be prepared for it to only serve 4 because everyone will want a double helping!

Strawberries, cream and a dash of cinnamon - the perfect pudding combination.