Scones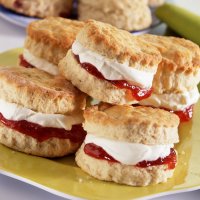 A traditional British favourite - crumbly scones with your choice of jam and lashings of clotted cream - superb
Makes: 16
What you need:
225g / 8oz self raising flour
1 tsp baking powder
50g/2oz margarine
25g/1oz
125ml/1/4 pint milk
pinch salt
extra milk for brushing
6cm/21/2in scone cutter
Strawberry/blackcurrant/raspberry jam or jam of your choice
Clotted cream
What you do:
Pre-heat oven to 230°c
Sift flour, baking powder and salt into mixing bowl.
Cut margarine into small pieces and use your fingers to rub into the mixture until it resembles breadcrumbs.
Add sugar and milk, mix into a soft dough.
Roll out onto a floured surface.
Cut the scones out and place on a greased baking sheet
Brush with a little milk and bake for 7-10mins
Cool on a wire rack before serving
Serve with jam and clotted cream
Recipe created by the Cordon Vert cookery school
This page can be found at: http://secretsauce.co.uk/cakes-desserts/scone-recipes/scones/
A short link can also be used: http://bit.ly/gdMqm5
Vegetarian Society

The Vegetarian Society is a registered charity committed to promoting the health, environmental and welfare benefits of a vegetarian diet.
More from Vegetarian Society

These Halloween snails look deliciously slimy. Who's going to be brave enough to take the first bite?

A fantastic ale and mushroom pie recipe perfect to warm you up when it's chilly outside and you want something tasty and filling

Need some get up and go in the morning? This smoothie is just what you need. Ready, steady...
Popular in scone recipes

They may be perfect for a hot summer's day, but don't let that stop you from making them year-round, whenever you can get your hands on strawberries!