Classic scones with strawberries & cream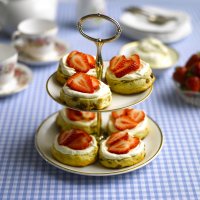 They may be perfect for a hot summer's day, but don't let that stop you from making them year-round, whenever you can get your hands on strawberries!
Preparation: 5 mins
Cooking: 15 mins
Serves: 8
What you need:
225g self-raising flour
Pinch of salt
55g butter
25g caster sugar
150ml milk
1 free-range egg, beaten
400g punnet Sweet Eve strawberries
Clotted or whipped cream to serve
What you do:
Preheat the oven to 220C. Lightly grease a baking sheet.
Mix together the flour and salt and rub in the butter to form breadcrumbs.
Stir in the sugar and then add the milk a bit at a time until a soft dough forms.
Turn on to a floured surface and knead gently. Roll out to a depth of about 2cm. Using a 5cm cutter, stamp out rounds and place on the prepared baking sheet. Gently knead any remaining dough together, roll out and cut more scones. Continue until all the dough is used.
Using a pastry brush, lightly cover each scone with the beaten egg. Bake in the preheated oven for 12-15 minutes until well risen and golden.
Meanwhile, slice the Sweet Eve strawberries and set aside.
When the scones are ready, cool on a wire rack, then split and spread on a thick layer of cream. Top with slices of Sweet Eve strawberries.
This page can be found at: http://secretsauce.co.uk/cakes-desserts/scone-recipes/classic-scones-with-strawberries-and-cream/
A short link can also be used: http://bit.ly/PbsNeU
Sweet Eve Strawberries

Sweet, juicy and plump, British strawberries are undeniably the taste of a good summer. Sweet Eve is a new variety of British strawberry. Packed with sweetness and flavour Sweet Eve is in season from June until October and it tastes like strawberries used to taste.
More from Sweet Eve Strawberries

Sophie says: 'I love making this as a celebration cake for special occasion - the layers of meringue with the fruit in between look very pretty.'

When it gets a bit wintry nothing beats a great crumble for dessert - it's sweet, crunchy and with a dribble of custard, perfect!

Strawberries, cream and a dash of cinnamon - the perfect pudding combination.
Popular in scone recipes

A traditional British favourite - crumbly scones with your choice of jam and lashings of clotted cream - superb