Raspberry & almond clafoutis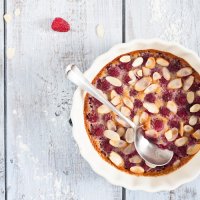 Grace Cheetham's glorious dairy-free version of this classic French dessert
Preparation: 10 mins
Cooking: 40 mins
Serves: 4
What you need:
Dairy-free margarine, for greasing
4 eggs
150g raw cane sugar or fruit sugar
1/8 tsp almond extract
50g ground almonds
25g rice flour
250ml Kallo Original Soya Milk
550g raspberries
40g flaked almonds
What you do:
Preheat the oven to 180°C/Gas 4. Lightly grease a large (approximately 20 x 20cm) ovenproof dish with dairy-free margarine.
Beat the eggs and sugar together in a mixing bowl with an electric whisk until thickened and creamy. Beat in the almond extract, then sift in the flours and, with a metal spoon, carefully fold into the egg mixture. Gently stir in the soya milk.
Put the raspberries on the bottom of the dish. Pour the batter over the top and scatter the flaked almonds over the top. Bake in the hot oven for 35-45 minutes, depending on the size of the dish, until risen and set, with a golden-brown crust formed on the top. Remove from the oven and serve.
Cook's tip:
'Raspberries and almonds go wonderfully well together and you could also use other fruit, depending on the season, such as cherries or plums.'
This page can be found at: http://secretsauce.co.uk/cakes-desserts/raspberry-recipes/raspberry-and-almond-clafoutis/
A short link can also be used: http://bit.ly/saqOOF
Kallo

Kallo has been creating delicious, simple recipes from the finest natural ingredients and making food and drink with the utmost thought for people's wellbeing and enjoyment for more than 20 years. In fact our whole philosophy is 'Kallo. Thought for food' because we believe the more you think about food, the more you enjoy it.
More from Kallo

A delicious and healthy fish pie - perfect for any winter evening

What could be more delicious than cream cheese and Parma ham, topped with some sweet, juicy figs?

A delicious, quick and easy sweet snack, ideal for working mums always on the move
Popular in raspberry recipes

A finalist in British Lion eggs' Eggs Factor contest, Elaine Garner's blackberry and raspberry souffle omelette was judged to be one of the best by celebrity chef Paul Merrett

Use whatever fruit is in season - raspberries, strawberries, blackberries - and indulge in this delicious fruity pavlova

With Pancake Day just around the corner, what could be better than using up your fridge fail-safes to whip up a batch of delicious raspberry pancakes?