Souffle omelette with quark cream, blackberries and raspberries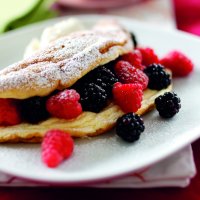 A finalist in British Lion eggs' Eggs Factor contest, Elaine Garner's blackberry and raspberry souffle omelette was judged to be one of the best by celebrity chef Paul Merrett
Preparation: 5 mins
Cooking: 2-4 mins
Serves: 1-2
What you need:
3 Lion Quality eggs, separated
30ml/2 tbsp caster sugar
A knob of butter
Blackberries and raspberries
60ml/4 tbsp Quark
15ml/1 tbsp icing sugar
A little vanilla extract
Icing sugar to dust
What you do:
Preheat the grill. Whisk the egg whites in a clean grease-free bowl until they are stiff. add the caster sugar and whisk again until the are glossy.
In a separate bowl, whisk the egg yolks until they are creamy. Fold the egg whites into the egg yolks.
Mix the quark with the icing sugar and vanilla essence. Melt the butter ina medium non-stick frying pan, add the egg mixture and cook for 1-2 mins or until the base is golden. Transfer the pan to under the grill and cook for a further 1-2mins or until the top is golden.
Tip the omelette onto a plate. Scatter over the fruits and fold in half. Dustin with icing sugar and serve with the quark cream. Serve immediately.
This page can be found at: http://secretsauce.co.uk/cakes-desserts/raspberry-recipes/souffle-omelette-with-blackberries-raspberries/
A short link can also be used: http://bit.ly/goLGAx
British Lion eggs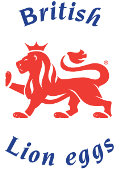 Look for the Lion on eggs to guarantee the highest standards of food safety. All Lion Quality eggs come from British hens vaccinated against salmonella and are date-stamped for freshness.
More from British Lion eggs

Celebrity chef Marcus Wareing's fantastic recipe for baked egg custard tart serves 8, but be prepared for it to only serve 4 because everyone will want a double helping!

Daniel Costello's Spanish baked eggs recipe was chosen by celebrity chef Paul Merrett as a winning recipe in British Lion eggs' Eggs Factor competition

A fantastic recipe for brunch - it looks decadent and you'll soon be wanting it every day!
Popular in raspberry recipes

Use whatever fruit is in season - raspberries, strawberries, blackberries - and indulge in this delicious fruity pavlova

With Pancake Day just around the corner, what could be better than using up your fridge fail-safes to whip up a batch of delicious raspberry pancakes?

A delicious melt-in-the-mouth summer pudding which will really impress your guests