Thick pancakes with spiced apple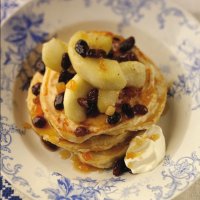 Don't you just love a recipe that features a 'dollop'? A delicious sweet pancake.

Preparation: 20 mins
Cooking: 20 mins
Serves: 4

What you need:

Apple topping ingredients

2 tbsp butter
3 Bramley apples, peeled and sliced
3 tbsp demerara sugar
1 tsp ground cinnamon
1 tsp mixed spice
3 tbsp sultanas

Pancake ingredients

225 g plain flour
1 tbsp baking powder
1 tbsp caster sugar
pinch of salt
2 British Lion eggs, lightly beaten
300ml milk
2 tbsp butter, melted
oil, for frying
creme fraȋche, to serve

What you do:
For the pancakes: place all the ingredients apart from the oil into a bowl and whisk using an electric hand whisk until smooth.
Heat a little oil in a frying pan over a medium heat and pour in a ladleful of batter. Heat for 1-2 minutes on each side, or until puffed and golden brown. Repeat until you have used all the batter.
For the spiced apple: melt the butter in a saucepan over a low-medium heat. Add the apples, sugar, cinnamon, mixed spice and sultanas. Cook gently for 8-10 minutes, stirring occasionally until the apples are soft but do not start to break down. Set aside to cool.
To serve, stack the pancakes and top with a spoonful of apple and a dollop of creme fraȋche.
This page can be found at: http://secretsauce.co.uk/cakes-desserts/pancake-recipes/thick-pancakes-with-spiced-apple/
A short link can also be used: http://bit.ly/x8rLaP
Skandi Candle
Pure soy wax candles in Flack Fig & Vetiver or Lemon fragrances - perfect for any dinner party or romantic night in.
British Lion eggs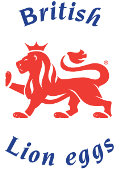 Look for the Lion on eggs to guarantee the highest standards of food safety. All Lion Quality eggs come from British hens vaccinated against salmonella and are date-stamped for freshness.
More from British Lion eggs

Daniel Costello's Spanish baked eggs recipe was chosen by celebrity chef Paul Merrett as a winning recipe in British Lion eggs' Eggs Factor competition

Celebrity chef Marcus Wareing's fantastic recipe for baked egg custard tart serves 8, but be prepared for it to only serve 4 because everyone will want a double helping!

What could be more fun on Pancake Day than setting fire to your dessert?
Popular in pancake recipes

What could be more fun on Pancake Day than setting fire to your dessert?

Indulgent, chocolatey pancakes, perfect served with a big scoop of dairy ice cream

Delicious Scotch pancakes with caramelised oranges and a dollop of low-fat whisky crème fraiche