Normandy apple crepes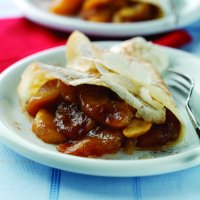 Give your pancake day a French flavour with these delicious apple crepes
Preparation: 20 mins
Cooking: 30 mins
Serves: 4
What you need:
75g/3oz plain flour
pinch of salt
2 large British Lion eggs
200ml/7floz milk
a little oil for frying
For the filling:
50g/2oz caster sugar
100ml/4floz dry cider
a knob of butter
350g/12oz green eating apples, peeled, cored and sliced
icing sugar to dust and crème frâiche to serve
What you do:
Place the flour, salt and eggs in a large bowl, add half the milk and whisk well until the mixture is lump free. Add the remaining milk and whisk again until smooth. Pour into a jug and leave to stand whilst you make the filling
Make the filling: place the caster sugar without any water, in a heavy based pan. Cook over a gently heat, shaking the pan occasionally (don't stir the sugar) until the sugar melts and turns golden brown. Remove from the heat and carefully add the cider - be careful as it will splatter and spit. Stir well, then return to the heat, add the butter and continue to cook and stir until a smooth caramel sauce forms. Add the apples, to the sauce, cover and cook for 5 mins, until the apple is tender. Keep warm
Heat a 20cm/8in diameter non-stick frying pan until hot, drizzle a little oil over the centre and wipe around the pan with a piece of kitchen paper. Pour a little of the batter into the pan and immediately tilt the pan to spread the batter evenly over the base of the pan. Cook for 2 mins or until the top is set and the base golden. Flip over using a spatula and cook for a further 1-2mins or until the base is golden. Make another 7 pancakes in the same way and keep warm
Spoon a little apple into each pancake, fold or roll up, then dust with icing sugar. Serve hot with crème frâiche or ice cream
This page can be found at: http://secretsauce.co.uk/cakes-desserts/pancake-recipes/normandy-apple-crepes/
A short link can also be used: http://bit.ly/fWdiCY
British Lion eggs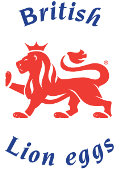 Look for the Lion on eggs to guarantee the highest standards of food safety. All Lion Quality eggs come from British hens vaccinated against salmonella and are date-stamped for freshness.
More from British Lion eggs

Celebrity chef Marcus Wareing's fantastic recipe for baked egg custard tart serves 8, but be prepared for it to only serve 4 because everyone will want a double helping!

Daniel Costello's Spanish baked eggs recipe was chosen by celebrity chef Paul Merrett as a winning recipe in British Lion eggs' Eggs Factor competition

What could be more fun on Pancake Day than setting fire to your dessert?
Popular in pancake recipes

Indulgent, chocolatey pancakes, perfect served with a big scoop of dairy ice cream

What could be more fun on Pancake Day than setting fire to your dessert?

Delicious Scotch pancakes with caramelised oranges and a dollop of low-fat whisky crème fraiche