Strawberry, blueberry & cinnamon mini pancakes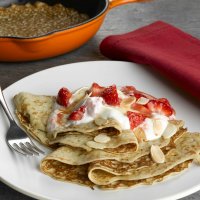 These fluffy pancakes are perfect for a leisurely breakfast or tasty afternoon treat. The sweet strawberries and tangy blueberries means the family will want these on more than just Pancake Day.
Preparation: 10 mins
Cooking: 10 mins
Serves: 12
What you need:
150g self-raising flour
1/2 tsp baking powder
2 tbsp icing sugar
1/2 tsp ground cinnamon
2 large eggs
100ml milk
50 g Viva Strawberries, chopped
50g blueberries
20g butter
sunflower oil
maple syrup to serve
What you do:
In a bowl, mix the flour, baking powder, icing sugar and ground cinnamon. Crack the eggs into the flour and whist together until a smooth paste is formed. Gradually add the milk until you have a thick batter, add the strawberries and blueberries.
Heat a non-stick frying pan over a medium heat. Add 10g butter and a small splash of sunflower oil. Once sizzling, use a tablespoon to drop the batter into the pan, in one fluid motion. Wait 30 seconds, and then once small bubbles appear, flip the pancakes for a further 30 seconds. Remove from the pan and keep warm whilst cooking the rest. Half way through, add the remaining butter and more oil if necessary.
Pile onto a large plate, and drizzle with some maple syrup.
This page can be found at: http://secretsauce.co.uk/cakes-desserts/pancake-recipes/strawberry-blueberry-and-cinnamon-mini-pancakes/
A short link can also be used: http://bit.ly/1edKslE
Skandi Candle
Pure soy wax candles in Flack Fig & Vetiver or Lemon fragrances - perfect for any dinner party or romantic night in.
Viva Strawberry
More from Viva Strawberry

Macaroons are the perfect dessert to follow a romantic dinner - the perfect treat!

Viva strawberries and chocolate are a match made in heaven and make a delicious treat and a healthier alternative to a bar of chocolate.

Making delicious homemade ice-cream doesn't have to be difficult thanks to this easy strawberry ice-cream
Popular in pancake recipes

What could be more fun on Pancake Day than setting fire to your dessert?

Indulgent, chocolatey pancakes, perfect served with a big scoop of dairy ice cream

Delicious Scotch pancakes with caramelised oranges and a dollop of low-fat whisky crème fraiche