Chocolate, rum & raisin brownies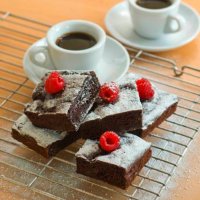 An indulgent yet guilt-free dessert
Preparation: 15 mins
Cooking: 25 mins
Serves: 12
What you need:
15g Silver Spoon Half Spoon
3 egg whites
300g low-fat cream cheese
40g cocoa powder
2 tsps rum
3tbsps milk
75f plain flour
1tsp bicarbonate of soda
25g roughly chopped raisins
50g roughly chopped dark chocolate
What you do:
Preheat the oven to 180C.
Spray a 6 inch square baking tin with a little cooking oil, such as Frylight
Place egg whites in a large bowl and whisk until they form soft peaks. Mix Silver Spoon Half Spoon with the cream cheese, add the cocoa powder, rum and milk and combine well
Fold the chocolate mixture into the whisked egg whites. Sieve the flour and bicarbonate of soda together over the mixture then fold lightly with the chocolate and raisins
Spoon the mixture into the tin and bake for 20-25 minutes until springy to the touch. Remove from the oven and leave to cool slightly before removing from the tin and cutting it into 12 squares.
Dust with a little icing sugar and serve either hot or cold
Handy cook's tip:
Once you've got the basics sorted you can vary the recipe with different nuts and quantities of dried fruit - walnuts are lovely!
This page can be found at: http://secretsauce.co.uk/cakes-desserts/brownie-recipes/chocolate-rum-and-raisin-brownies/
A short link can also be used: http://bit.ly/hHXmhp
Half Spoon Granulated Sugar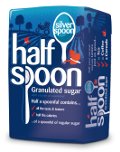 Real sugar, with all its taste and texture, is combined with a tiny amount of sweeteners to make
Silver Spoon Half Spoon
twice as sweet.
More from Half Spoon Granulated Sugar

Delicious Scotch pancakes with caramelised oranges and a dollop of low-fat whisky crème fraiche

A delicious fruit compote, served with a cool dollop of yoghurt
Popular in brownie recipes

Having some friends round for a gossip? These will go down a treat!

Take just 10 minutes out of your day to do a bit of prep and then 30 minutes later sit down with a cuppa and a delicious chocolate and cranberry brownie. Yum!

What better combination? We know you'll love these rich, squidgy squares.