Bursting with blueberries pancakes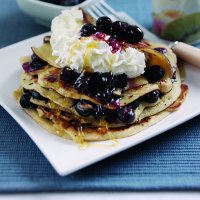 Why stick to the traditional lemon and sugar pancakes when you can have these blueberry delights?
Makes: 4 large or 6 - 8 small pancakes
What you need:
100g (4oz) Plain Flour
1 medium egg
150ml (1/4pt) skimmed milk
Spray oil
100g (4oz) blueberries (plus an extra 25g (1oz) for topping)
Runny honey
Anchor Light Real Dairy Cream
What you do:
Place flour in a bowl and make a well in the centre of the flour and add the egg
Using a whisk slowly combine the egg and flour
Gradually add the milk and combine all the ingredients until you have a smooth, pouring batter
Add the blueberries
Heat a pancake or shallow frying pan with a little spray oil - pour off any excess oil
Place 3 - 4 large spoonfuls of the mixture in the centre of the pan and spread out using the back of a spoon to the size of pancake you want
Cook for only 1 - 2 minutes and then carefully 'toss' or turn the pancake
Cook the second side and place on plate
Repeat this process until all the mixture is used
Place 25g (1oz) blueberries into the hot pan, add a large spoonful or squirt of honey and roll the blueberries in the pan until lightly heated & coated in honey
Stack the pancakes onto a serving plate and squirt Anchor Light Real Dairy Cream between some of the layers
Finally top with Anchor Light Real Dairy Cream, the honeyed berries & extra honey if you like
This page can be found at: http://secretsauce.co.uk/cakes-desserts/pancake-recipes/bursting-with-blueberries-pancakes/
A short link can also be used: http://bit.ly/eGh16h
Skandi Candle
Pure soy wax candles in Flack Fig & Vetiver or Lemon fragrances - perfect for any dinner party or romantic night in.
Anchor Light Real Dairy Cream
Anchor Light has the satisfying taste of standard Anchor Real Dairy Cream, but with 40% less fat, so this year you really can have it all! It contains fewer than 25 calories in a 12.5g serving (a generous squirt).
More from Anchor Light Real Dairy Cream

One portion of winter fruits counts as 2 towards your five a day and apricots are a great source of vitamin A, so a good for you and delicious dessert!

Devised by nutritionist Dr Carrie Ruxton, this banoffee pie has 200 fewer calories than a traditional banoffee pie recipe
Popular in pancake recipes

What could be more fun on Pancake Day than setting fire to your dessert?

Indulgent, chocolatey pancakes, perfect served with a big scoop of dairy ice cream

Delicious Scotch pancakes with caramelised oranges and a dollop of low-fat whisky crème fraiche