Winter fruits with cream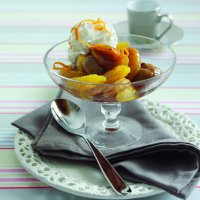 One portion of winter fruits counts as 2 towards your five a day and apricots are a great source of vitamin A, so a good for you and delicious dessert!
Serves: 4
Per portion: 305 calories; 3 grams of fat
What you need:
12 dried figs
16 dried apricots
500 ml clear apple juice
2 large oranges
Few strands of saffron
1 teaspoon cinnamon
Unrefined sugar (optional)
Anchor Light Real Dairy Cream
What you do:
Soak the figs and apricots overnight in the apple juice
Remove the zest from one orange and set aside
Peel both oranges, remove pith and carefully segment the flesh using a sharp knife. Now squeeze the remaining orange over a pan to remove the juice
Add the oranges, zest, apricots, figs, saffron, cinnamon and any remaining apple juice to a pan
Top up with water if necessary to half cover the fruits
Simmer on a low heat for 6-8 minutes
Using a slotted spoon, remove the fruits and arrange onto 4 dishes
Now bring the remaining liquid to the boil, with 2-3 teaspoons of sugar if desired, and stir until the liquid has reduced into a light syrup
Pour a small amount of syrup over each plate of fruit
Top with a decorative squirt of Anchor cream and serve immediately. This dish can also be served cold.
Nutrition points:
- You get nearly 8 grams of fibre per portion - that's a third of your daily requirement!
- Each portion counts as two of your 5-a-day
- Apricots are a source of vitamin A, while both apricots and figs contain calcium and iron.
This page can be found at: http://secretsauce.co.uk/cakes-desserts/apricot-recipes/winter-fruits-with-cream/
A short link can also be used: http://bit.ly/g6Ow1k
Anchor Light Real Dairy Cream
Anchor Light has the satisfying taste of standard Anchor Real Dairy Cream, but with 40% less fat, so this year you really can have it all! It contains fewer than 25 calories in a 12.5g serving (a generous squirt).
More from Anchor Light Real Dairy Cream

Why stick to the traditional lemon and sugar pancakes when you can have these blueberry delights?

Devised by nutritionist Dr Carrie Ruxton, this banoffee pie has 200 fewer calories than a traditional banoffee pie recipe