Easy orange pecan muffins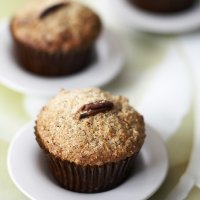 These muffins are light, moist and perfect for impressing guests or make them for the family - just make sure you save one for yourself!
What you need:
75g/3oz Billington's Golden Caster sugar
150g/6oz Alllinson Wholemeal self Raising Flour
1/2tsp bicarbonate of soda
1/2tsp fine seasalt
75g/3oz pecan nuts, chopped
Finely grated zest of 1 orange
1 egg
2 tbsp orange juice
100ml/4fl oz milk
75g/3oz butter, melted
What you do:
Preheat the oven to 180C/160C fan/Gas mark 4. Put the Golden Caster Sugar, Wholemeal Self Raising Flour, bicarbonate of soda, salt, pecan nuts and orange zest into a bowl.
In a jug mix together the egg, orange juice, milk and melted butter.
Pour the wet ingredients into the dry and gently mix together.
Line a muffin tray with 12 paper muffin cases. Spoon the mixture into the cases. Bake for 15 minutes until risen.
Handy tip: Instead of muffins, pour this mixture into a greased and lined 900g/2lb loaf tin and bake for 40 minutes until a skewer inserted into the centre comes out clean.
This page can be found at: http://secretsauce.co.uk/cakes-desserts/muffin-recipes/orange-pecan-muffins/
A short link can also be used: http://bit.ly/e9N6Fg
Baking Mad

Baking Mad - with recipes and baking ideas, it's the place for everything you ever wanted to know about baking.
More from Baking Mad

Just look at the fantastic colour of the icing on these fairy cakes - and there's not a hint of food colouring in sight

The longer you soak the fruit for these Christmas cakes, the better the flavour will be. Then make the cake a few days before for a moisty gorgeous spongy texture. Heavenly!

Forget the traditional Cornish pasty, this sweet potato, smoked cheese and squash version is twice delicious!
Popular in muffin recipes

When it comes to cakes, very little beats a moist, soft, light, fruity muffin and these raspberry versions are no exception

These delicious, fruity berry mini muffins are perfect for lunchbox snacks and simple enough to bake with the kids.

Sweet, delicious breakfast muffins will certainly get your morning off to a good start!