Boozy Christmas cakes with brandy frosting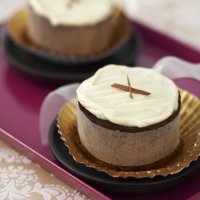 The longer you soak the fruit the better the flavour will be. Half an hour is fine (if that's all you've got) but a couple of days or a week would be even better! Then make the cake just a few days before you want to eat it for a moist gorgeous spongy texture. Smother them with this gorgeous caramel boozy frosting as you're serving them - absolutely heavenly.
Preparation time: 1 hour plus up to 1 week soaking fruit
Cooking time: 40 mins
Makes: 10
What you need:
250 g (9 oz) mixed dried fruit
125 ml (4 fl oz) dark rum
75 ml (3 fl oz) sherry
250 g (9 oz) butter
225 g (8 oz) Billington's Molasses Sugar
3 eggs, lightly beaten
250 g (9 oz) Allinson Wholemeal Self Raising Flour
2 tablespoons ground mixed spice
4 pieces of stem ginger, drained and chopped
For fresh brandy frosting:
150 g (6 oz) unsalted butter
150 g (6 oz) Billington's Unrefined Golden Icing Sugar
150 g (6 oz) cream cheese
1 tbsp brandy, ginger wine or sherry
What you do:
Preheat the oven at 180C (170C) Gas Mark 4. Put the dried fruit into a bowl, add the dark rum and sherry and stir everything together.
Microwave on High for 2 minutes to warm through (alternatively put into a pan and warm through for a few minutes).
Tip into a sealable container and put the lid on. Leave the fruit to macerate for as long as you've got! (1 hour to 1 week)
Grease and line the base and sides of 10 x 7.5cm 3inch cooking rings.
Cream the butter and Molasses Sugar together in a bowl with a hand held mixer until soft and fluffy.
Gradually add the eggs a little at a time, adding 2 tablespoons of Allinson Wholemeal Self Raising Flour to stop the mixture curdling.
Sift in the remaining flour and mixed spice, then fold in the stem ginger.
Put half the macerated fruit into a processor and whizz until it's smooth
Add to the flour with the rest of the fruit and boozy liquid. Fold everything together. Spoon into prepared tin, smoothing over the surface, leaving a slight dip in the surface.
Bake for 40 minutes. Test to see if cooked by inserting a skewer in the centre - it should come away clean. If it doesn't, return the cake to the oven for 15 minutes and check again. Cool in the tins. Remove rings and wrap in foil and put into an airtight container until needed.
For fresh brandy frosting, put 150 g (5 oz) each of unsalted butter, Unrefined Golden Icing Sugar and cream cheese into a processor with 1 tablespoon of brandy, ginger wine or sherry. Whizz together until blended.
Use a palette knife to spread the icing over the top of the cake, smoothing and peaking.

Wrap a ribbon around the sides if liked to decorate.
This page can be found at: http://secretsauce.co.uk/cakes-desserts/christmas-recipes/boozy-christmas-cakes-with-brandy-frosting/
A short link can also be used: http://bit.ly/f0LhvV
Baking Mad

Baking Mad - with recipes and baking ideas, it's the place for everything you ever wanted to know about baking.
More from Baking Mad

Just look at the fantastic colour of the icing on these fairy cakes - and there's not a hint of food colouring in sight

Forget the traditional Cornish pasty, this sweet potato, smoked cheese and squash version is twice delicious!

Fruity and delicious, this cake's a real winner and easy to make too!
Popular in christmas recipes

This simple Christmas cake recipe makes a moist, delicious cake with a wonderful mixture of rich and fragrant tea-soaked fruits

This is a really good and light Lincolnshire alternative to a traditional Christmas pudding, particularly if you're not one of those efficient cooks who has made their steamed puddings months in advance.

Nothing says you care like a homemade present - and these Florentines are perfect