Web chocolate triangles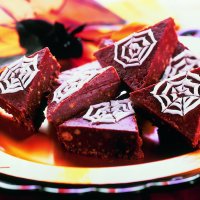 These may look scary but they're absolutely delicious and kids will love this spooky treat!
Makes: 20
Preparation time: 15 minutes
Chilling time: 30-45 minutes
What you need:
225g (8oz) dark chocolate, broken into pieces
115g (4oz) butter
397g can Carnation Condensed Milk
275g (10oz) digestive biscuits, coarsely crushed
25g (1oz) raisins
To decorate:
What you do:
Line an 18 x 28cm (7 x 11") baking tin with foil.
Place the chocolate, butter and milk into a saucepan, heat gently until melted.
Add the biscuits and raisins. Stir well. Press mixture into prepared tin and chill until firm. Cut into triangles and pipe three circles using the white royal icing over each.
Using a cocktail stick drag from the centre to the edges of the circles to form a spider's web.
Store in the refrigerator for up to 2 days.
This page can be found at: http://secretsauce.co.uk/cakes-desserts/halloween-recipes/web-chocolate-triangles/
A short link can also be used: http://bit.ly/hIKibO
Nestlé Carnation

Do you long to make beautiful, delicious puddings to impress your friends and family but lack the time and confidence? Well, help is at hand! The
Carnation
range of products is the short and deliciously sweet route to dessert heaven…
More from Nestlé Carnation

This quick-setting light textured cheesecake is the perfect answer to an alternative to the richness of Christmas pudding...

Creamy and delicious, these rum and raisin brulees are the creme de la creme of desserts - perfect as an alternative for Christmas pudding!

These mini desserts are perfect to serve up for a dinner party - what could be better than individual version of banoffee pies?
Popular in halloween recipes

Try this all-time favourite at home for Bonfire Night, but take care when making as the toffee gets very hot!

Perfect to hand around or on pride of place in the middle of the table at a Halloween party and they're delicious too!

These biscuits make a great centrepiece for a party! The kids will love to help make them too - crunchy chocolate bourbon-style biscuits with creamy chocolate filling.