Kirstie Allsopp's Halloween skeleton biscuits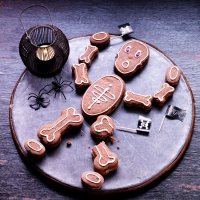 These biscuits make a great centrepiece for a party! The kids will love to help make them too - crunchy chocolate bourbon-style biscuits with creamy chocolate filling.
Preparation: 15 mins
Cooking: 10 mins
Serves: 30
What you need:
Biscuit
150g (5 1/2oz) butter
150g (5 1/2oz) brown sugar
175g (6oz) Carnation Condensed Milk
1 egg
150g (5 1/2oz) plain flour
115g (4oz) self raising flour
30g (1oz) cocoa powder
Filling
115g (4oz) icing sugar
85g (3oz) butter
1 1/2tbsp cocoa powder
You will also need:
Biscuit cutters or card and scissors to make your own skeleton trace
Ready made white icing (optional)
What you do:
Preheat the oven to 180°C (160°C for fan ovens), Gas Mark 4. Line two baking sheets with parchment.
Beat the butter, sugar and condensed milk together until creamy. Add the egg (don't worry if it looks like its curdling), beat well and then add the flours and cocoa powder. Cover in cling film and refrigerate for 30 minutes.
Roll the dough out on a well-floured surface to the thickness of a pound coin. Cut shapes out - we made our own skeleton shape but you can make whatever shapes you like (see below tip!).
Transfer the biscuit shapes to the trays and bake for about 10 minutes, depending on size. Cool completely on a wire rack.
Beat the filling ingredients and use to sandwich the biscuits together. Ice the tops of the biscuits, if you like, with white icing.
Cook's tip:
These biscuits are great in all shapes and sizes - we used a skull shape, an oval for the body and different size bone shaped cutters for the legs and arms. Make sure that you make enough biscuits to make sandwiches for this you will need at least:
2 x skulls
2 x oval bodies
4 x long bones for legs
8 x arm bones
8 hands and feet
Try heart shapes for Valentine's or try letter shapes for a birthday party!
The condensed milk makes them extra crunchy... store them in an airtight container and they'll keep happily for about a week.
This page can be found at: http://secretsauce.co.uk/cakes-desserts/halloween-recipes/kirstie-allsopps-halloween-skeleton-biscuits/
A short link can also be used: http://bit.ly/pFCKRA
Nestlé Carnation

Do you long to make beautiful, delicious puddings to impress your friends and family but lack the time and confidence? Well, help is at hand! The
Carnation
range of products is the short and deliciously sweet route to dessert heaven…
More from Nestlé Carnation

This quick-setting light textured cheesecake is the perfect answer to an alternative to the richness of Christmas pudding...

Creamy and delicious, these rum and raisin brulees are the creme de la creme of desserts - perfect as an alternative for Christmas pudding!

These mini desserts are perfect to serve up for a dinner party - what could be better than individual version of banoffee pies?
Popular in halloween recipes

Try this all-time favourite at home for Bonfire Night, but take care when making as the toffee gets very hot!

Perfect to hand around or on pride of place in the middle of the table at a Halloween party and they're delicious too!

This 'pear' of ghosts are really spooky and will go down a treat at a kids' Halloween party. You'll be glad you made the effort when you see the look on their faces...