Kirstie Allsopp's toffee apples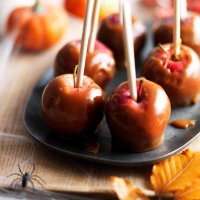 Try this all-time favourite at home but take care when making as the toffee gets very hot! Children can help to weigh out and melt the ingredients but should let mum do the boiling and coating
Preparation: 10 mins
Cooking: 15 mins
Serves: 6
What you need:
6 eating apples
175g (6oz) light buttery spread
100g (3 1/2oz) maple or golden syrup
225g (8oz) light brown soft sugar
200g (7oz) Carnation Condensed Milk
What you do:
Dunk the apples into a large bowl of boiling water for 30 seconds, remove with a slotted spoon and allow to cool slightly before wiping the skins with kitchen paper - this will remove any wax from the apples and allow the toffee to stick better to the skin!
Holding the apple firmly, insert a chopstick or lolly stick into the apples near the core. Place a piece of parchment onto a baking sheet.
Place the remaining ingredients into a large pan and melt gently over a low heat. Then bring to the boil for about 15-20 minutes stirring frequently - if you have a food thermometer the temperature you need is about 130C! IT IS VERY HOT SO BE CAREFUL! It will be quite a deep brown caramel colour and will have a cinder toffee smell.
Remove from the heat, and very carefully take each apple and roll in the toffee to coat completely. Leave to set on the parchment until hard.
Cook's tip:
If your caramel doesn't set hard on the apples - it will be because the toffee did not get hot enough. It still makes a lovely chewy caramel but a good test of 'readiness' is if you drop a small bit of the toffee into ice cold water and it forms very hard toffee. Small strands should shatter, if it is soft and chewy then it needs to get hotter!
This page can be found at: http://secretsauce.co.uk/cakes-desserts/halloween-recipes/kirstie-allsopps-toffee-apples/
A short link can also be used: http://bit.ly/qlbg9D
Nestlé Carnation

Do you long to make beautiful, delicious puddings to impress your friends and family but lack the time and confidence? Well, help is at hand! The
Carnation
range of products is the short and deliciously sweet route to dessert heaven…
More from Nestlé Carnation

This quick-setting light textured cheesecake is the perfect answer to an alternative to the richness of Christmas pudding...

Creamy and delicious, these rum and raisin brulees are the creme de la creme of desserts - perfect as an alternative for Christmas pudding!

These mini desserts are perfect to serve up for a dinner party - what could be better than individual version of banoffee pies?
Popular in halloween recipes

Perfect to hand around or on pride of place in the middle of the table at a Halloween party and they're delicious too!

These biscuits make a great centrepiece for a party! The kids will love to help make them too - crunchy chocolate bourbon-style biscuits with creamy chocolate filling.

This 'pear' of ghosts are really spooky and will go down a treat at a kids' Halloween party. You'll be glad you made the effort when you see the look on their faces...