Lemon & honey cupcakes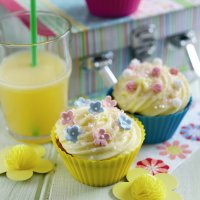 Feed the nation's love for cupcakes with a freshly baked batch of lemon & honey cupcakes made with delicious Rowse Light & Mild Honey.
Preparation: 30 mins
Cooking: 22 mins
Serves: 12
What you need:
For the cupcakes:
150g (6oz) butter, softened
100g (4oz) caster sugar
50g (2oz) Rowse Light & Mild Honey
Finely grated zest of 1 lemon
2 medium eggs, beaten
150g (6oz) self-raising flour
3 tbsp lemon juice
To decorate:
100g (4oz) butter, softened
225g (8oz) icing sugar
50g (2oz) low fat soft cheese
1 tbsp Rowse Light & Mild Honey
1 tsp finely grated lemon zest
Few drops of yellow food colouring
Edible sprinkles, sugar flowers and tiny sweets
What you do:
Preheat the oven to 190°C / fan oven 170°C / Gas Mark 5. Put 12 silicone or paper cup cake cases into a bun tray.
Beat the butter, sugar and Rowse Light & Mild honey together until pale and creamy, using a wooden spoon or hand-held electric whisk. Beat in the lemon zest. Gradually add the eggs, beating well between each addition.
Sift in the flour and fold it in gently with a large metal spoon until combined, then stir in the lemon juice to give a soft consistency. Spoon the mixture into the cake cases.
Bake on the middle shelf of the oven for 20-22 minutes until risen and golden. Cool in the tin for a few minutes, then transfer the cupcakes to a wire rack to cool completely.
To make the frosting, beat the butter in a bowl until smooth and creamy. Gradually sift in the icing sugar, beating well between each addition. Beat in the low fat soft cheese, Rowse Light & Mild honey, lemon zest and food colouring. Pipe or spread on top of the cupcakes, then decorate.
Handy cook's tip:
Keep in a cool place and eat within 3 days.
This page can be found at: http://secretsauce.co.uk/cakes-desserts/cup-cake-recipes/lemon-and-honey-cupcakes/
A short link can also be used: http://bit.ly/fI69Nr
Rowse Honey

Rowse Honey are the UK's leading honey company, producing the nation's favourite honeys. We travel the globe to source the world's finest honeys from the most fascinating, remote places and also produce delicious dessert sauces, lovely lemon curd and all sorts of honey-related products.
More from Rowse Honey

A dreamy baked cheesecake with delicious fruits and honey. A great idea for a baked dessert when you want that wow factor.

A delicious fruity cake - the honey retains moisture so the cake will be kept moist and tasty. A great recipe idea for National Baking Week (19-25th Oct)!
Popular in cup cake recipes

Delicious cupcakes decorated with vanilla buttercream and beautiful decorations

A gorgeous cupcake perfect for summer - light and fruity!

Rich dark chocolate combines beautifully with the creamy ripe avocados and toasted walnuts to create a truly melt-in-the mouth, unique and luxurious taste.