Vanilla & chocolate angel biscuits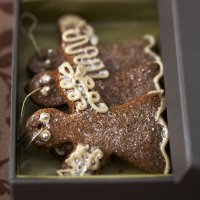 Who could resist these beautiful Christmas biscuits? Give them as presents and get the kids to help you make them. But beware - they taste as good as they look!

Preparation time: 15 minutes
Cooking time: 30 minutes
Makes: 8
What you need:
125 g (4 oz) butter, cubed
125 g (4 oz) Billington's Light Muscovado Sugar
1 teaspoon vanilla extract
175 g (6 oz) Allinson Wholemeal Plain Flour
1 tablespoon cocoa
1 tsp ground ginger
1 large egg and 1 yolk
125 g (4 oz) Billington's Golden Icing Sugar
Gold or silver edible dusting powder
What you do:
Put the butter into a food processor add the Light Muscovado Sugar and vanilla extract and blend until smooth.
Add the flour, cocoa, ginger, whole egg and yolk. Blend again until the mixture comes together to form a ball.
Turn onto a large sheet of baking parchment and knead the dough lightly for a couple of minutes until it is smooth.
Wrap in the parchment paper and chill for 30 minutes.
Roll out the cookie dough between two sheets of baking parchment until it's 2.5 mm (1/8th inch) thick.
Stamp out 6 angels using a cutter. Ease away the cookie dough surrounding the heart shapes and roll out these trimmings between two more sheets of baking parchment. Stamp out 2 more angel shapes.
Take a small plain piping nozzle and stamp the tip near the top centre of the angel, to make a hole. Leave the shapes on the baking parchment and slide the paper onto two firm baking sheets.
Bake at 180C (350F) Gas Mark 4 for 10-12 minutes until cookies are firm and golden.
Cool on the paper for 5 minutes, then use a palette knife to cool the cookies completely on a wire rack.
Sift the Golden Icing Sugar into a bowl, add 1tbsp of cold water, stir and add another 1tbsp of water to make a smooth piping consistency.
Put a fine plain nozzle into a plastic piping bag and pipe a halo and wings on the angels.
When the icing is firm, thread some white raffia through the holes and hang onto twigs to display as a gift.
For white chocolate iced biscuits, melt 150g (5 oz) white chocolate in a heatproof bowl over a pan of simmering water and use to decorate biscuits instead of the icing.
This page can be found at: http://secretsauce.co.uk/cakes-desserts/christmas-recipes/vanilla-chocolate-spice-angel-biscuits/
A short link can also be used: http://bit.ly/eoYIYr
Baking Mad

Baking Mad - with recipes and baking ideas, it's the place for everything you ever wanted to know about baking.
More from Baking Mad

Just look at the fantastic colour of the icing on these fairy cakes - and there's not a hint of food colouring in sight

The longer you soak the fruit for these Christmas cakes, the better the flavour will be. Then make the cake a few days before for a moisty gorgeous spongy texture. Heavenly!

Forget the traditional Cornish pasty, this sweet potato, smoked cheese and squash version is twice delicious!
Popular in christmas recipes

This simple Christmas cake recipe makes a moist, delicious cake with a wonderful mixture of rich and fragrant tea-soaked fruits

This is a really good and light Lincolnshire alternative to a traditional Christmas pudding, particularly if you're not one of those efficient cooks who has made their steamed puddings months in advance.

Nothing says you care like a homemade present - and these Florentines are perfect