Mostarda French glace cherry chutney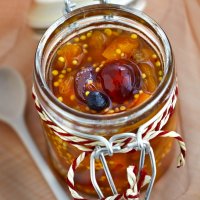 A lightly spiced glace cherry chutney that is delicious served with cheese or on grilled pork chops or steaks.
What you need:
1 fresh unripe pear peeled, cored and cut into 2cm pieces
75g dried apricots roughly chopped
125g French glace cherries, half roughly chopped, the rest whole
4 tbsp golden sultanas
50ml white wine vinegar
250ml white wine
200g caster sugar
1 tbsp mustard powder
2 tbsp yellow mustard seeds
1 tbsp crushed red chili flakes
What you do:
In a medium saucepan, simmer together the pear, apricots, sultanas, vinegar and white wine, until reduced by half, for about 15 minutes.
Add the sugar, French glace cherries, mustard powder, mustard seeds and cook for another 5 minutes until syrupy. Let cool completely and store in a sealed jar. This chutney will keep in the refrigerator for 1 week. Makes 300ml.
This page can be found at: http://secretsauce.co.uk/cakes-desserts/cherry-recipes/mostarda-french-glace-cherry-chutney/
A short link can also be used: http://bit.ly/11xnXQD
French Glace Cherries

French Glacé Cherries retain their flavour, shape and texture throughout the baking process. As such, they offer unbeatable quality, and reliable results every time. So don't just use them in a traditional fruit cake, why not try them in other sweet (or savoury) dishes?
More from French Glace Cherries

These no-bake cheesecakes are made even easier because the melted white chocolate provides all the sweetness for the cream cheese so no need for extra sugar.

Home made fruity ice lollies made with glace cherries, peaches and cherry juice.

An alternative to Black Forest Gateau - a chocolate cake with glace cherry filling and smooth chocolate ganache top.
Popular in cherry recipes

Home made fruity ice lollies made with glace cherries, peaches and cherry juice.

Healthy nutty snacks, perfect for a mid-morning snack or in a lunch box.

This is a quick version of a classic - Black Forest Gateau. Chocolate brownies, drizzled with cherry juice, cherries and topped with a luscious chocolate sauce.