Cherry energy bars with white chocolate drizzle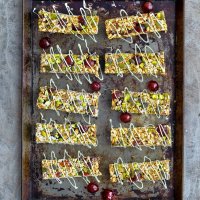 Healthy nutty snacks, perfect for a mid-morning snack or in a lunch box.
What you need:
100g rolled oats
50g pecan nuts, roughly chopped
50g pistachios, roughly chopped
75g desiccated coconut
50g pumpkin seeds
30 French glace cherries, quartered
140ml honey
75g salted butter
160g dark brown sugar
1 tbsp vanilla extract
75g puffed rice cereal
A pinch of salt
100g white chocolate, chopped
What you do:
Preheat oven to 180c. Line a 30cm x 20cm baking tin with non-stick parchment paper and set aside. Arrange the oats, pecan nuts, pistachios, and pumpkin seeds on a baking tray and bake for 8 minutes. Remove from the tray and pour into a large bowl with the coconut, puffed rice and French glace cherries.
In a medium saucepan, combine the brown sugar, honey, butter and a pinch of salt. Let simmer until the sugar is dissolved and is caramel like, for about 5 minutes. Add the vanilla extract. Pour over the cereal-nuts mixture and stir well. Press the mixture into the lined tin. Place another sheet of parchment over the mixture and place something heavy like a book over the top and let sit for an hour.
Melt the chocolate in a glass bowl suspended over a saucepan of boiling water. Keep stirring until melted. Alternatively, you can melt in the microwave, stirring every 30 seconds.Slice into 12 bars and drizzle each one with the chocolate.
Cook's tip:
Store them in a sealed container to keep fresh for over a week.
This page can be found at: http://secretsauce.co.uk/cakes-desserts/cherry-recipes/cherry-energy-bars-with-white-chocolate-drizzle/
A short link can also be used: http://bit.ly/13hSyQG
Skandi Candle
Pure soy wax candles in Flack Fig & Vetiver or Lemon fragrances - perfect for any dinner party or romantic night in.
French Glace Cherries

French Glacé Cherries retain their flavour, shape and texture throughout the baking process. As such, they offer unbeatable quality, and reliable results every time. So don't just use them in a traditional fruit cake, why not try them in other sweet (or savoury) dishes?
More from French Glace Cherries

These no-bake cheesecakes are made even easier because the melted white chocolate provides all the sweetness for the cream cheese so no need for extra sugar.

Home made fruity ice lollies made with glace cherries, peaches and cherry juice.

An alternative to Black Forest Gateau - a chocolate cake with glace cherry filling and smooth chocolate ganache top.
Popular in cherry recipes

Home made fruity ice lollies made with glace cherries, peaches and cherry juice.

A lightly spiced glace cherry chutney that is delicious served with cheese or on grilled pork chops or steaks.

This is a quick version of a classic - Black Forest Gateau. Chocolate brownies, drizzled with cherry juice, cherries and topped with a luscious chocolate sauce.