Honey, orange & coconut cake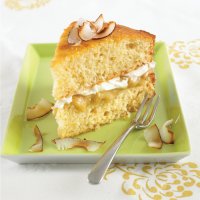 A delicious fruity cake made with Rowse Light & Mild honey. The honey retains moisture so the cake will be kept moist and tasty. A great recipe idea for National Baking Week (19-25th Oct)!
Preparation: 20 mins
Cooking: 30 mins
Serves: 8
What you need:
For the cake:
150g (5 1/2 oz) strained Greek yogurt
125g (4oz) Rowse Light & Mild honey
125ml (4fl oz) sunflower oil
3 eggs, lightly beaten
125g (4oz) caster sugar
75g (3oz) dessicated coconut
250g (9oz) plain flour
10ml (2 tsp) baking powder
grated zest 1 orange
For the filling:
75ml (5 tbsp) Rowse Light & Mild honey
150ml (1/2 pint) creme fraiche or whipping cream, whipped
toasted coconut to decorate
What you do:
Preheat the oven to 180°C/350°F/Gas 4. Grease and base line two x 20cm (8 inch) sandwich tins. In a large bowl, beat the yogurt, honey, oil, eggs, sugar, coconut, flour, baking powder and orange zest together.
Divide the mix between the two tins and bake for 25-30 minutes, until risen and just firm. Leave to cool for 10 minutes then turn out onto a wire rack to cool.
Spread the honey over one cake, top with cream or creme fraiche and place the other cake on top. Sprinkle with slivers of toasted coconut and serve.
This page can be found at: http://secretsauce.co.uk/cakes-desserts/cake-recipes/honey-orange-and-coconut-cake/
A short link can also be used: http://bit.ly/gG1mNE
Rowse Honey

Rowse Honey are the UK's leading honey company, producing the nation's favourite honeys. We travel the globe to source the world's finest honeys from the most fascinating, remote places and also produce delicious dessert sauces, lovely lemon curd and all sorts of honey-related products.
More from Rowse Honey

Feed the nation's love for cupcakes with a freshly baked batch of lemon and honey cupcakes

A dreamy baked cheesecake with delicious fruits and honey. A great idea for a baked dessert when you want that wow factor.
Popular in cake recipes

This recipe just makes my mouth water! Smooth, sweet buttercream with tempting, moist chocolate cake. Don't try and resist!

Classic lemon drizzle cake with a twist! The elderflower cordial adds an extra sweet flavour to this delicious cake. Try it and see!

For a surprising treat, the tomato ketchup cake is sure to tantalise your tastebuds!