Corn flake oatcake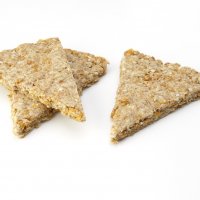 Once you've tasted these, no other oatcakes will do! Quick and easy to make, try them with cheese and salad for a healthy light lunch
Preparation: 20 minutes
Baking: 15-20 minutes
Makes: 16 to 20
What you need:
100g self raising wholemeal flour
50g rolled oats
60g Kellogg's Corn Flakes, lightly crushed
100g sunflower spread
Pinch of salt
1-2 tbsp skimmed or semi-skimmed milk
1tbsp sesame seeds
What you do:
Preheat oven to 180°C (350°F), gas mark 4.
Place dry ingredients in a large bowl.
Add sunflower spread and rub in evenly.
Add enough milk to just bind mixture together.
Press together with hands to form the dough and place half the dough on a large lightly floured piece of greaseproof paper.
Roll out half the dough on the paper forming a 3mm thick circle using the paper to turn the dough around. Keep pressing mixture together if it cracks.
Score lightly into eight segments.
Very carefully place on a greased baking sheet and bake in a moderate oven (180°C) for 15 minutes or until slightly golden.
Cut into segments while still warm and leave to cool on a baking sheet for 5 minutes before transferring to cooling rack to cool completely.
Repeat with other half of dough.
Keep stored in an airtight container.
Handy tips:
Use poppy seeds, sunflower seeds or linseeds as alternatives to sesame seeds.
Add a savoury topping, for example cheese and salad vegetables.
Cut into shapes using pastry cutters.
Cut into star and moon shapes for Halloween and serve with waxed mini cheeses cut into pumpkin faces.
This page can be found at: http://secretsauce.co.uk/cakes-desserts/cake-recipes/corn-flake-oatcake/
A short link can also be used: http://bit.ly/f95ClF
Kellogg's

Kellogg's is one of the most influential and innovative brands in the world, producing more than 40 different cereals, including Coco Pops, Crunchy Nut Cornflakes and Special K.
More from Kellogg's

A modern take on an old favourite - this no-pastry tart is scrummily sticky with lots of lemon taste to balance its sweetness
Chewy, yummy... these oaty cookies are munchily more-ish. See how quickly they disappear when you put them out for friends!

Devised by celebrity chef Simon Rimmer, this is a dinner party classic with a modern twist
Popular in cake recipes

This recipe just makes my mouth water! Smooth, sweet buttercream with tempting, moist chocolate cake. Don't try and resist!

Classic lemon drizzle cake with a twist! The elderflower cordial adds an extra sweet flavour to this delicious cake. Try it and see!

For a surprising treat, the tomato ketchup cake is sure to tantalise your tastebuds!