Citrus drizzle cake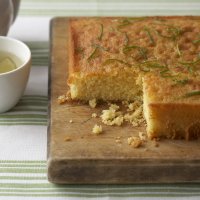 Drizzle cake always goes down a treat and instead of the usual lemon, this one's got lime and orange in it too for a delicious fruity twist
What you need:
For the sponge:
225g (8oz) very soft butter
225g (8oz) golden caster sugar
100g (3 1/2 oz) ground almonds
4 large eggs, at room temperature
Zest of 1 lemon
Zest of 1 orange
Juice of 1 lime
3 tbsp Jacksons of Piccadilly Fairtrade Green Tea with Lime, cool
175g (6oz) self-raising flour
1 1/2 heaped teaspoons baking powder
For the syrup:
250ml (9fl oz) Jacksons of Piccadilly Fairtrade Green Tea with Lime
2 tbsp lemon juice
2 tbsp orange juice
150g (5oz) icing sugar
2 limes, zest, to sprinkle
What you do:
You need a 10 inch (25.5cm) x 8 inch (20cm) x 2inch (5cm) deep brownie or tray bake tin, greased and lined with baking parchment. Preheat the oven to 180c/170 fan/gas mark 4.
Put all the ingredients for the sponge into a large bowl, sieving the flour and baking powder over last. Using an electric hand whisk, beat the mixture until smooth and creamy (about 1 minute). Pour the mixture into the tin and spread out, then immediately put into the oven on the middle shelf. Bake for 25-30 minutes or until the cake springs back when you gently press it with the tips of your fingers.
While the cake cooks put all the syrup ingredients into a pan and boil for a few minutes until the liquid reduces to 250ml (9fl oz). Allow syrup to cool, and once the cake comes out of the oven, using a fine skewer, make about 20 incisions in the sponge. Sprinkle the lime zest over the top and then slowly drizzle over the syrup. Leave to cool in the tin before cutting into squares. Serve as it is or with a few raspberries and a dollop of cold crème fraiche.
This page can be found at: http://secretsauce.co.uk/cakes-desserts/cake-recipes/citrus-drizzle-cake/
A short link can also be used: http://bit.ly/gvtcIE
Jacksons of Piccadilly
Jacksons of Piccadilly
supplies the finest quality teas from around the world. Inspired by the natural beauty of plants, it creates only the simplest teas and authentic blends.
More from Jacksons of Piccadilly

This refreshing gin fizz cocktail was created exclusively for Jacksons of Piccadilly by food writer Ghillie James
Popular in cake recipes

This recipe just makes my mouth water! Smooth, sweet buttercream with tempting, moist chocolate cake. Don't try and resist!

Classic lemon drizzle cake with a twist! The elderflower cordial adds an extra sweet flavour to this delicious cake. Try it and see!

For a surprising treat, the tomato ketchup cake is sure to tantalise your tastebuds!