Aldo Zilli's sugared chestnut & coffee cake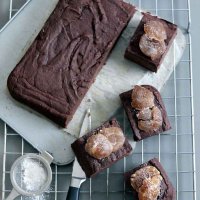 Aldo says: "I am not the best at making cakes, but this one is so simple you cannot go wrong. Also in its favour - it can be made well in advance."
Serves: 8-12
Preparation time: 10 minutes
Cooking time: 45 minutes
What you need:
275g best plain chocolate, broken into squares
200g margarine
90 ml strong black coffee
25g cocoa powder
6 eggs, separated
275g unsweetened cooked chestnut purée
12 sugared chestnuts (marrons glacés)
Icing sugar or cocoa powder, to dust
What you do:
Preheat the oven to 200˚C/fan oven 180˚C/Gas Mark 6.
Lightly grease and line the base of a 20 cm square cake tin.
Place the chocolate in a heatproof bowl with the margarine and coffee. Place over a pan of simmering water and heat gently until melted, stirring occasionally.
Place the cocoa powder in a large bowl with the egg yolks and chestnut purée. Beat until smooth. Stir the chocolate mixture into the chestnut purée mixture.
In a separate bowl whisk the egg whites until stiff, then fold into the chestnut mixture using a large metal spoon. Spoon into the prepared tin and level the surface.
Bake the cake for 30-35 minutes until it is dark brown and firm to the touch. Allow to cool in the tin for 10 minutes then turn out. Leave to cool.
Decorate with the sugared chestnuts and dust with icing sugar or cocoa powder to serve.
This page can be found at: http://secretsauce.co.uk/cakes-desserts/cake-recipes/aldo-zillis-sugared-chestnut-and-coffee-cake/
A short link can also be used: http://bit.ly/hZiA71
Zilli Light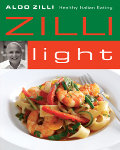 Try a recipe from Aldo Zilli's brand new recipe book,
Zilli Light
- healthy Italian eating.
More from Zilli Light

You should eat oily fish at least three times a week, so this recipe is great as it can be kept in the fridge for up to two weeks - as long as the sardines are completely covered in oil.
Popular in cake recipes

This recipe just makes my mouth water! Smooth, sweet buttercream with tempting, moist chocolate cake. Don't try and resist!

Classic lemon drizzle cake with a twist! The elderflower cordial adds an extra sweet flavour to this delicious cake. Try it and see!

For a surprising treat, the tomato ketchup cake is sure to tantalise your tastebuds!