Aldo Zilli's marinated sardines with olive oil, garlic & chilli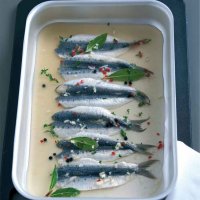 You should eat oily fish at least three times a week, so this recipe is great as it can be kept in the fridge for up to two weeks - as long as the sardines are completely covered in oil. Alternatively, eat it sooner and reuse the marinade for another batch of fish.
Serves: 4
Preparation time: 10 minutes (plus marinating)
What you need:
12 fresh small sardines, boned
500 ml bottle white wine vinegar
juice of 1 lemon
5 tablespoons sea salt
4 bay leaves
5 garlic cloves
3 tablespoons whole peppercorns
To finish:
3 garlic cloves, finely chopped
2 chillies, finely chopped
2 tablespoons finely chopped fresh parsley
75 ml extra virgin olive oil
What you do:
Place the sardines in a flat dish and cover with the rest of the ingredients. Leave to marinate in a cool place for at least 12 hours.
To finish, remove the sardines from the marinade and dip in a bowl of water. Pat dry with a kitchen cloth and place on a shallow plate.

Sprinkle with the garlic, chilli and parsley and pour over the olive oil - make sure the fish is completely covered with the oil.

Marinate for at least 3 hours before serving.
This page can be found at: http://secretsauce.co.uk/fish-seafood/sardine-recipes/aldo-zillis-marinated-sardines/
A short link can also be used: http://bit.ly/eddMtV
Zilli Light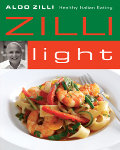 Try a recipe from Aldo Zilli's brand new recipe book,
Zilli Light
- healthy Italian eating.
More from Zilli Light

Aldo says: "I am not the best at making cakes, but this one is so simple you cannot go wrong. Also in its favour - it can be made well in advance."
Popular in sardine recipes

It might be a while since you last ate a sardine, but once you've tried these, you won't forget them again