Banana & chocolate bread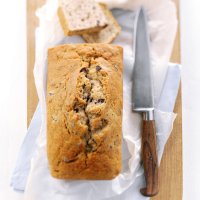 Banana and chocolate are always a really good combination and are equally as delicious when added to this bread recipe!
Serves: 8-10
Preparation time: 10 minutes.
Cooking time: 1hour 15 minutes.
Nutritional information:
Per portion:

Energy (kcals): 431
Protein: 5.2g
Total fat: 19.8g
polyunsaturated fat: 1.1g
monounsaturated fat: 5.2g
saturated fat: 12.3g
Carbohydrate: 61g
Sugar: 37.5g
Fibre: 1.5g
Calcium: 81mg
Sodium: 256mg
What you need:
175g butter
250g muscovado sugar, reserve 25g for topping
2 medium size eggs, beaten
2 medium size bananas
100g dark chocolate, roughly chopped
300g plain flour
2 x 5ml spoons baking powder
2 tbsp Alpro soya to Chocolate Milk
1 tbsp butter, melted
What you do:
Preheat the oven to 190°C, 375°F, Gas Mark 5. Line the base of 2 x 500g loaf tin with greaseproof paper and grease the sides of the tin.
Beat together the butter and sugar, add the eggs and mash in the bananas, until smooth. Stir in the Alpro soya Alternative to Chocolate Milk.
Sieve the flour with the baking powder and fold into the mixture. Pour into the loaf tin and smooth over the surface with a palette knife.
Bake in the oven for 1 hour 15 minutes. Test if a cake is cooked by inserting along thin skewer into the centre of the cake. If the skewer comes out clean with no mixture on it, the cake is ready. Leave in the tin for 15 minutes before turning out on to a cooling rack.
This page can be found at: http://secretsauce.co.uk/cakes-desserts/bread-recipes/banana-chocolate-loaf/
A short link can also be used: http://bit.ly/f6hvyw
Alpro Soya

Alpro Soya creates delicious products for you to enjoy any time of the day. Made from the goodness of the whole soya bean, they are prepared with care and with the utmost respect for people and planet.
More from Alpro Soya

Don't just boil those potatoes - make them a dish in itself with this delicious traditional recipe

Looking for a vegetarian alternative for Christmas dinner? Try this traditional and delicious nut roast

Start the day with this substantial breakfast that will give you enough energy to last until lunchtime
Popular in bread recipes

A classic British dish and a great one to turn bread that's past its best into a deliciously creamy dessert

This spicy pumpkin tea bread is just the thing to serve up for a Halloween treat

Wholesome and full of flavour, country bread with figs is delicious served fresh for a ploughman's lunch and just as tasty the day after toasted and spread with marmalade