Spiced pumpkin tea bread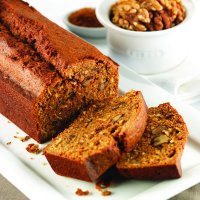 This spicy pumpkin tea bread is just the thing to serve up for a Halloween treat
What you need:
60g chopped walnuts
225g strong bread flour
225g dark brown sugar
70g caster sugar
¾ tsp of bicarbonate soda
½ tsp salt
1 tsp ground nutmeg
1 tsp ground cinnamon
250g pumpkin flesh, baked until tender, then pureed
100g unsalted butter, melted
75mls coconut milk
50g flaked coconut
What you do:
Preheat oven to 350°F /175 °C/Gas Mark 4.
Spread walnuts in a single layer on a Pyrex non-stick baking tray. Toast in the preheated oven for 8 to 10 minutes, or until lightly browned. Set aside to cool.
In a large Pyrex bowl, stir together the flour, brown sugar, caster sugar, baking soda, salt, nutmeg, and cinnamon. Add the pumpkin puree, butter, and coconut milk and mix until all of the flour is absorbed. Fold in the flaked coconut and toasted walnuts. Turn into the Pyrex non-stick loaf pan.
Bake for 1 hour and 15 minutes in the preheated oven, or until a skewer inserted in the centre comes out clean. Remove from oven, and cover loaf tightly with foil. Allow to steam for 10 minutes. Remove foil and turn out onto a cooling rack. Tent loosely with the foil, and allow to cool completely. Cut into slices and serve on its own or buttered.
This page can be found at: http://secretsauce.co.uk/cakes-desserts/bread-recipes/spiced-pumpkin-tea-bread/
A short link can also be used: http://bit.ly/dMMyIG
National Baking Week 2008

National Baking Week
takes place from 20-26 October and is a celebration of baking. TV chef Rosemary Shrager is supporting the new campaign to revive and revitalise enthusiasm for home baking and get Britain baking.
More from National Baking Week 2008

Buy five ingredients, add one store cupboard ingredient, and you'll have a delicious bread and butter pudding, devised by celebrity chef Rosemary Shrager, to enjoy!

This is a lovely, creamy comfort dinner, with prawns, haddock and salmon making it a real fishy feast

Created in association with TV chef Rosemary Shrager, this dish is perfect for a quick meal for one, uses only 5 ingredients and takes just 5 minutes to make
Popular in bread recipes

A classic British dish and a great one to turn bread that's past its best into a deliciously creamy dessert

Banana and chocolate are always a really good combination and are equally as delicious when added to this bread recipe!

Wholesome and full of flavour, country bread with figs is delicious served fresh for a ploughman's lunch and just as tasty the day after toasted and spread with marmalade