Toffee apple tartlets with Calvados cream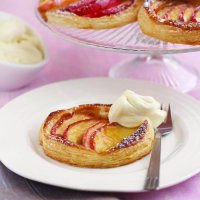 You can have the taste of toffee apples all year round, not just on Bonfire Night with these delicious toffee apple tartlets
Makes: 6
What you need:
For the tartlets:
1/2 Pink Lady apple
375g ready rolled puff pastry
4-5 tbsp bought thick Toffee Sauce (such as Dulce de leche)
1 egg, beaten
icing sugar for dusting
For the cream:
150ml double cream
2 tbsp icing sugar, sieved
2 tbsp Calvados
What you do:
Pre-heat the oven to 200˚C/180˚C fan ovens/gas mark 6.
Halve, core and very thinly slice the Pink Lady apples.
Cut the pastry into 6 circles about 10cm diameter, using a large pastry cutter or by cutting around a small plate. Place onto a lightly greased, or non-stick baking sheet, and score a small border of about 5mm-1cm around the edge of each one.
Put about 2 tsp of toffee sauce in the centre of each and then arrange the apple slices on top. Brush the top of the apples and the pastry edges with the egg and then fairly generously dust each one with icing sugar.
Place in the oven for 8-10 minutes until the pastry is puffed up and golden around the edges.
To make the cream, lightly whisk everything together until it forms soft peaks.
Serve the warm Toffee Apple Tartlets with a spoonful of the Calvados cream melting over the top.
This page can be found at: http://secretsauce.co.uk/cakes-desserts/apple-recipes/toffee-apple-tartlets-with-calvados-cream/
A short link can also be used: http://bit.ly/hyoWJd
Pink Lady apples

Pink Lady apples have a distinctive crisp texture and fizzy flavour – similar to champagne. It takes 200 days of tender care and, once ripe, each apple undergoes a rigorous quality control process to ensure that the high standard is kept – only the best apples can become a Pink Lady apple. Pink Lady apples are perfect culinary apples as they retain their texture and unique flavour and little, if any, additional sugar needs to be added.
More from Pink Lady apples

Flapjacks are great for desserts, snacks and even lunchboxes, so make up a tray and watch them disappear!

This wonderfully decadent dessert is perfect to serve at a large family gathering.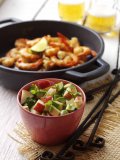 Even when the sun doesn't always shine this tasty, zingy very easy to make Australian recipe will make it seem like it does.
Popular in apple recipes

Flapjacks are great for desserts, snacks and even lunchboxes, so make up a tray and watch them disappear!

These are tasty snacks, which may be served warm or cold

A traditional, fruity Bramley Apple Crumble developed for children by celebrity chef Phil Vickery