Spiced tarte tatin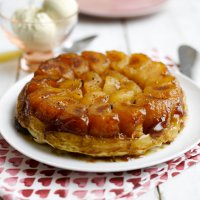 A magical combination of nutmeg, cloves and the sharp, sweet taste of Pink Lady apples, finished with a toffee-coloured caramel
What you need:
2kg Pink Lady apples
Juice of 2 freshly squeezed lemons
125 gms unsalted butter, slightly softened
125 gms caster sugar
20 cloves, crushed
1 nutmeg, finely grated
200 gms puff pastry
What you do:
Smear the butter over the base and sides of a cold pan and sprinkle over the sugar. Give the pan a shake to even it out, then sprinkle over the cloves and nutmeg.
Roll out the puff pastry in to a disc, about 2cm wider than the rim of the pan, and leave to rest in the fridge on greaseproof paper.
In a bowl, roll the Pink Lady® apple halves in the lemon juice and 2 tablespoons of water. Shake off any excess juice, and arrange the pieces in the pan, standing on their sides, in concentric circles, embedding them into the mix. Pack the apples in tightly and put the pan on a fierce heat.
Move the pan around on the flame until a deep, rich caramel colour has developed evenly. This process can take 10 to 20 minutes, depending on the pan and heat.
Leave the pan to cool, and drop the disc of pastry on to the apples, allowing the edge to hang over the sides of the pan. Place the pan in a pre-heated oven (Mark 7, 220 C, 425F) and bake for 15 minutes, or until the pastry is nicely risen. Remove from the oven and rest for a minute. Turn out onto an inverted plate to find a perfect golden circle of apples. Serve warm, with a bit of double cream or vanilla ice cream.
Handy cook's tip
For best results, use a really heavy pan, preferably in iron or copper, with straight or almost straight sides and about 22-24 centimetres wide.
This page can be found at: http://secretsauce.co.uk/cakes-desserts/apple-recipes/spiced-tarte-tatin/
A short link can also be used: http://bit.ly/hhIyw0
Pink Lady apples

Pink Lady apples have a distinctive crisp texture and fizzy flavour – similar to champagne. It takes 200 days of tender care and, once ripe, each apple undergoes a rigorous quality control process to ensure that the high standard is kept – only the best apples can become a Pink Lady apple. Pink Lady apples are perfect culinary apples as they retain their texture and unique flavour and little, if any, additional sugar needs to be added.
More from Pink Lady apples

Flapjacks are great for desserts, snacks and even lunchboxes, so make up a tray and watch them disappear!

This wonderfully decadent dessert is perfect to serve at a large family gathering.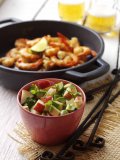 Even when the sun doesn't always shine this tasty, zingy very easy to make Australian recipe will make it seem like it does.
Popular in apple recipes

Flapjacks are great for desserts, snacks and even lunchboxes, so make up a tray and watch them disappear!

These are tasty snacks, which may be served warm or cold

A traditional, fruity Bramley Apple Crumble developed for children by celebrity chef Phil Vickery