Pink Lady chocolate apples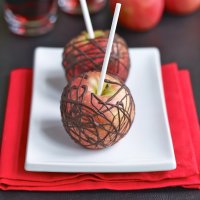 Great for Halloween or bonfire night. Pink Lady apples on sticks, drizzled prettily with white & dark chocolate - like toffee apples but easier. Good for kids to help with, and tuck into, great for a party. Very simple, very pretty
Preparation: 20 mins
Cooking: 2-4 mins
Serves: 6
What you need:
100g chocolate, finely chopped (use milk, plain or white - or a mixture)
6 Pink Lady apples
6 long lolly sticks (available at kitchen shops, online & some supermarkets)
What you do:
Add a few centimetres of water to a small saucepan and set on the hob over a medium heat and bring up to the boil.
Put the chocolate in a small heatproof bowl, using separate bowls for different colours of chocolate - a sturdy pyrex one is ideal. Once the water in the pan is boiling, set the bowl on top ensuring the base doesn't actually touch the water. Turn off the heat and allow the chocolate to melt gently, stirring as it does so. If the chocolate has been finely chopped this should only take a minute or so.
Pierce the centre of each apple, just next to the stalk, and insert a lolly stick in deep so that it feels firmly embedded. Line a baking sheet with a piece of greaseproof paper and spread the apples out on it.
Use a teaspoon to drizzle thin trails of chocolate around each apple, using the lolly stick to twirl the apple to get an evening coating all over. Set back on the tray and repeat with the other apples. Set aside somewhere cool to set.
Cook's tip:
Melting chocolate
Whilst melting dark and milk chocolate is pretty easy, and can be done in the microwave if you prefer, melting white chocolate is a little trickier. It is more prone to 'seizing', which is turning unpleasantly grainy and splitting slightly. By chopping the chocolate into small lumps it will melt much quicker and not need any direct heat source. This will minimize the risk of overheating. White chocolate is not easy to melt in a microwave as you have little control over the direction of the heat source.
This page can be found at: http://secretsauce.co.uk/cakes-desserts/apple-recipes/pink-lady-chocolate-apples/
A short link can also be used: http://bit.ly/17sPWTr
Pink Lady apples

Pink Lady apples have a distinctive crisp texture and fizzy flavour – similar to champagne. It takes 200 days of tender care and, once ripe, each apple undergoes a rigorous quality control process to ensure that the high standard is kept – only the best apples can become a Pink Lady apple. Pink Lady apples are perfect culinary apples as they retain their texture and unique flavour and little, if any, additional sugar needs to be added.
More from Pink Lady apples

Flapjacks are great for desserts, snacks and even lunchboxes, so make up a tray and watch them disappear!

This wonderfully decadent dessert is perfect to serve at a large family gathering.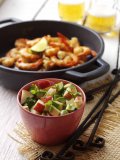 Even when the sun doesn't always shine this tasty, zingy very easy to make Australian recipe will make it seem like it does.
Popular in apple recipes

Flapjacks are great for desserts, snacks and even lunchboxes, so make up a tray and watch them disappear!

These are tasty snacks, which may be served warm or cold

A traditional, fruity Bramley Apple Crumble developed for children by celebrity chef Phil Vickery