Diana Henry's apple, cherry, hazelnut & poppy seed pie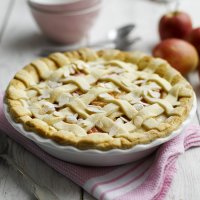 When was the last time you ate a piece of apple and cherry pie? Or maybe you've never had one! Don't make any more desserts until you've tried this one
Serves: 8
What you need:
250g plain flour
125g butter
100g caster sugar
1 tsp baking powder
grated zest of 1/2 lemon
1 tbs calvados
2 tbs cold whole milk
For the filling:
4 pink lady apples
1 1/2 tbs calvados
grated zest of 1/2 lemon
95g dried cherries, soaked in boiling water for 15 minutes and drained
175g hazelnuts, toasted and roughly chopped
3 tbs poppy seeds
1/2 tsp ground cinnamon
1/2 tsp ground ginger
ground seeds from 3 cardamom pods
To finish:
icing sugar and poppy seeds
What you do:
Put the flour and butter in a food processor fitted with a plastic blade and process until the mixture resembles breadcrumbs.
Add the caster sugar, baking powder and lemon zest and mix again, adding first the calvados and then the milk, until the pastry comes together in a ball. (You may not need all the milk).
Wrap in cling-film and chill for at least 30 minutes.
Preheat the oven to 190 C and put a metal baking sheet into it.
Divide the dough into 2/3 and 1/3. On a floured surface, roll out the larger piece and use it to line a 22-23cm spring form cake tin. You want to line the bottom and have the pastry form sides, about 3.5 - 4 cm high, all the way round. Chill.
Roll the other piece of pastry into a circle just slightly larger than cake tin. Put that on a floured metal sheet and let that chill too.
To make the filling, peel and grate the apples and mix with all the other ingredients.
Pile this into the lined cake tin and place the other circle of pastry on top. Pinch the edges of the pastry together and then crimp it if you wish.
Cut a little star pattern of incisions into the middle of the pastry top so that the steam can escape as it is cooking.
Put on the baking sheet in the oven and cook for 30 minutes. Let the pie cool in the tin then carefully remove. Sift icing sugar and scatter poppy seeds over the top.
Serve with whipped cream to which you have added another slosh of calvados.
This page can be found at: http://secretsauce.co.uk/cakes-desserts/apple-recipes/diana-henrys-apple-and-cherry-pie/
A short link can also be used: http://bit.ly/fEekpp
Pink Lady apples

Pink Lady apples have a distinctive crisp texture and fizzy flavour – similar to champagne. It takes 200 days of tender care and, once ripe, each apple undergoes a rigorous quality control process to ensure that the high standard is kept – only the best apples can become a Pink Lady apple. Pink Lady apples are perfect culinary apples as they retain their texture and unique flavour and little, if any, additional sugar needs to be added.
More from Pink Lady apples

Flapjacks are great for desserts, snacks and even lunchboxes, so make up a tray and watch them disappear!

This wonderfully decadent dessert is perfect to serve at a large family gathering.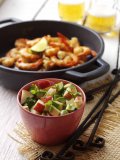 Even when the sun doesn't always shine this tasty, zingy very easy to make Australian recipe will make it seem like it does.
Popular in apple recipes

Flapjacks are great for desserts, snacks and even lunchboxes, so make up a tray and watch them disappear!

These are tasty snacks, which may be served warm or cold

A traditional, fruity Bramley Apple Crumble developed for children by celebrity chef Phil Vickery