Pink Lady apple-pie marshmallows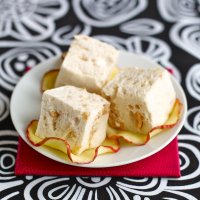 Super trendy treat, tastes just like apple pie but fat free. Marshmallows are one of the food trends of 2013.
Preparation: 20 mins
Cooking: 10 mins
Serves: 36
What you need:
For the apples:
3 Pink Lady apples, cored & finely chopped
Juice of 1 lemon
200ml cold water
1 tsp ground cinnamon
For the marshmallow base:
16g (approx. 8 sheets) leaf gelatine
2 large egg whites
500g granulated sugar
250ml cold water
What you do:
Prepare the tin by spraying lightly all over with non-stick cooking spray or brushing with a little vegetable oil. Add a good tablespoon of the icing sugar and cornflour coating to the tin and tap it around the base and sides so it is evenly covered. Set aside.
Place the apples in a saucepan with the lemon juice, water and cinnamon. Simmer, covered, until the apples are soft, stirring once or twice. Press gently with the back of wooden spoon to break them up a bit - you are looking for a fairly thick slightly lumpy apple puree - if it is too watery, simmer a little longer without the lid. Set aside to go completely cold before you go onward with the recipe.
Add the gelatine sheets one at a time (to prevent them clumping together) to a shallow bowl of cold water and set aside to soften.
Pour the egg whites into the clean bowl of a food mixer and whisk until they hold stiff peaks. Turn off the mixer while you make the syrup.
Put the sugar and water into a heavy-based pan and warm over a low heat, stirring until the sugar has completely dissolved. Stand a sugar thermometer in the pan, increase the heat to medium-high and bring up to the boil. Allow to bubble away, undisturbed, for around 15 minutes until the temperature reads 122°C. This is what is known as the 'firm ball' stage. If you don't have a sugar thermometer, drop a teaspoon of hot syrup into a glass of cold water. It should form a firm 'toffee-ish' ball that holds its shape. Remove the thermometer from the pan and leave it on a chopping board or plate to cool down.
With the mixer set on low speed, start to beat the egg whites once more. Add the hot syrup in a steady trickle, mixing continuously as you pour. As soon as all the syrup has been added, increase the speed to maximum. Remove the leaves of gelatine from the cold water, giving them a little squeeze dry, then drop them into the mixer as it is turning and whisk on high speed for 10 minutes. The mixture should be thick, shiny, and just about pourable.
Add the cold apple and beat again for a half a minute or so until its completely combined. Scrape into the prepared tin and level with the flat of a table knife. Sift over another tablespoon or so of the coating in an even layer and leave to set, uncovered and in a cool place, but not in the fridge, for 4-6 hours (or overnight).
When the marshmallow has set, sprinkle a little more of the icing sugar and cornflour coating on to the surface of a chopping board. Slide a table knife around the tin to release the marshmallow. Turn out on to the board and, using a sharp knife greased with a little non-stick cooking spray, cut into squares. Toss the squares in the rest of the coating so they are evenly covered.
These marshmallows will keep for about 5-7 days stored in an airtight tin, sprinkled all over with plenty of the icing sugar/cornflour coating.
Cook's tip:
You will need
20cm square baking tin
Non-stick cooking spray or a little vegetable oil
2 tbsp icing sugar mixed with 2 tbsp cornflour
A free standing food mixer with a whisk attachment
A sugar thermometer (handy but not essential)
This page can be found at: http://secretsauce.co.uk/cakes-desserts/apple-recipes/apple-pie-marshmallows/
A short link can also be used: http://bit.ly/17S70Dl
Pink Lady apples

Pink Lady apples have a distinctive crisp texture and fizzy flavour – similar to champagne. It takes 200 days of tender care and, once ripe, each apple undergoes a rigorous quality control process to ensure that the high standard is kept – only the best apples can become a Pink Lady apple. Pink Lady apples are perfect culinary apples as they retain their texture and unique flavour and little, if any, additional sugar needs to be added.
More from Pink Lady apples

Flapjacks are great for desserts, snacks and even lunchboxes, so make up a tray and watch them disappear!

This wonderfully decadent dessert is perfect to serve at a large family gathering.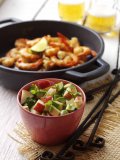 Even when the sun doesn't always shine this tasty, zingy very easy to make Australian recipe will make it seem like it does.
Popular in apple recipes

Flapjacks are great for desserts, snacks and even lunchboxes, so make up a tray and watch them disappear!

Mmmmmm apple pies. The smell of them baking, the first cut of the fork into the pastry and the apples oozing out...

A traditional, fruity Bramley Apple Crumble developed for children by celebrity chef Phil Vickery