Apple crumble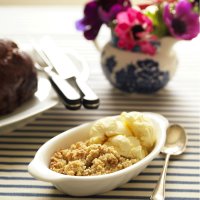 Sticky sweet apples with a crunchy topping served with creamy, smooth ice cream - this apple crumble's as good as any your mum makes!
Serves: 6-8
What you need:
For the filling:
8-10 Cox's orange pippins, peeled, cored and sliced into chunks
60g butter
½ teaspoon of mixed spice
2 dessert spoons Demerara sugar
For the crumble:
100g plain flour
100g medium oatmeal
100g Demerara sugar
100g soft brown sugar
pinch of cinnamon
150g softened butter
What you do:
Preheat the oven to 200c. Put the apples in an ovenproof dish and dice the butter roughly over the surface. Sprinkle over the spice and sugar. Bake for 20-25 minutes until the apples have softened. Remove from the oven and stir.
To make the crumble, put the flour, oatmeal and sugar into a separate bowl with the cinnamon. Dice the butter into the bowl, then rub it evenly into the dry ingredients until it resembles rough breadcrumbs. Scatter evenly over the apples in the ovenproof dish and put back in the oven. Bake for about 30 minutes until the crumble is golden and the apples are bubbling at the edges.
Serve with a scoop Kelly's Cornish Clotted Cream ice cream.
This page can be found at: http://secretsauce.co.uk/cakes-desserts/apple-recipes/apple-crumble/
A short link can also be used: http://bit.ly/gvVTky
Kelly's of Cornwall

Made with clotted cream and whole milk, fresh from the cows that graze on Cornwall's lush green grass, Kelly's of Cornwall Ice Cream has a distinctive creamy flavour and velvety smoothness that you won't find in any other ice cream. Perfect for sharing at home, Kelly's is the ideal accompaniment for any family or special meal occasion.
More from Kelly's of Cornwall

This recipe just makes my mouth water! Smooth, sweet buttercream with tempting, moist chocolate cake. Don't try and resist!

Lovely chocolatey gooey brownies - serve them on their own with cups of tea, or with dollops of ice cream to make a delicious dessert

The only effort involved in this summery strawberry meringue dessert is using an electric whisk and cooking meringues in the oven. The rest is a breeze!
Popular in apple recipes

Flapjacks are great for desserts, snacks and even lunchboxes, so make up a tray and watch them disappear!

Mmmmmm apple pies. The smell of them baking, the first cut of the fork into the pastry and the apples oozing out...

A traditional, fruity Bramley Apple Crumble developed for children by celebrity chef Phil Vickery