Tomato soup with pesto cream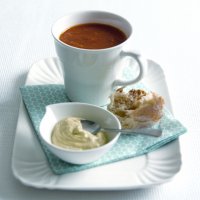 This soup is so rich and tasty you'll never want to have canned tomato soup again.
Cooking: 30 mins
Serves: 2
What you need:
Butter - 25g (1oz)
Onion - 1, peeled and chopped
Carrot - 1, peeled and chopped
Chopped tomatoes - 400g can
Tomato purée - 1 tbsp
Vegetable stock - 300ml (1/2 pint)
Caster sugar - 1 tsp
Salt and freshly ground black pepper
Bicarbonate of soda - a pinch
Green pesto sauce
Creme fraiche - 2 tbsp
What you do:
Melt the butter in a saucepan and add the onion and carrot. Cook over a medium heat for 5 - 7 minutes, until the vegetables have softened, stirring occasionally.
Add the chopped tomatoes, tomato puree, vegetable stock and caster sugar to the pan and bring to the boil. Then reduce the heat, cover the pan and simmer the soup for 10 - 15 minutes, until the vegetables are really tender.
Remove the pan from the heat and the puree the soup using a handheld electric wand or in a food processor or blender. Return to the pan, if necessary, season the soup to taste and stir in the bicarbonate of soda, which may fizz slightly, but stir until the fizzing stops.
Stir the pesto into the creme fraiche. Heat the soup and then pour it into warm bowls. Spoon the pesto creme fraiche on top, swirling it into the soup and serve immediately.
This page can be found at: http://secretsauce.co.uk/vegetarian/soup-recipes/tomato-soup-with-pesto-cream/
A short link can also be used: http://bit.ly/fms3aZ
Dairy Diary 2011 - Good Food Fast
Good Food Fast, the latest Dairy Cookbook, will make cooking enjoyable again even when you are short of time. Each recipe can be cooked in 30 minutes or less. Get it for £9.99 from Dairy Diary.
More from Dairy Diary 2011 - Good Food Fast

Rich and tasty, these no-bake slices are deceptively easy and guaranteed to be popular

This filling, mildly spicy main-meal soup is perfect for cold days
Popular in soup recipes

Spice up a simple tomato soup recipe with chilli and paprika, then serve with a dollop of sour cream and chive dip and warm crusty bread

This is such a great soup if you've just battled through wind and rain to get home. Serve with muffins or crusty bread

Healthy and full of vitamins, this soup is also a great winter warmer and it's made with soya, so it's vegan too!