Baked mushroom with kale & goat's cheese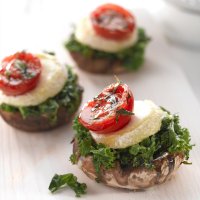 These stuffed mushrooms are a great dish to serve a hungry vegetarian and they'll thank you for it!
Serves: 4
What you need:
4 large breakfast mushrooms
250g kale finely shredded
1 garlic clove crushed
50g butter
4 slices goats cheese
2 tomatoes halved
1tbsp olive oil
1tbsp balsamic vinegar
1tsp thyme leaves
What you do:
Pre-heat the oven to 200*c / gas 6
Wipe the mushrooms clean with kitchen roll then pop onto a baking tray, melt half of the butter and pour over the mushrooms, season and cook for 5 minutes and cool.
Wilt the kale in the remaining butter with the garlic and whilst still warm divide between the mushrooms, Top with a slice of Goats Cheese.
Drizzle each of the tomatoes with olive oil, balsamic and thyme place on-top and bake for about ten minutes or until the cheese has melted and serve.
This page can be found at: http://secretsauce.co.uk/vegetarian/mushroom-recipes/baked-mushroom-kale-goats-cheese/
A short link can also be used: http://bit.ly/hyZgYR
Booths

Booths is an award-winning company with 26 stores across the north of England, all offering the same warm service, yet each with its own distinct personality, and is nationally recognised for its support of local farmers and producers.
More from Booths

This is such a great soup if you've just battled through wind and rain to get home. Serve with muffins or crusty bread
Popular in mushroom recipes

These little mushroom pies look so impressive but are really easy and quick to make.

The perfect quick dish - the combination of garlic, mushrooms and cream is taken to another level

Add a real kick to mushrooms with harissa paste - a North African hot red sauce made from chillis, garlic, coriander, cumin and olive oil