Split pea soup with spicy Moroccan drizzle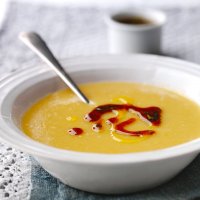 A delightful light lunch or supper that is low in saturated fat, a good source of fibre and cheap to make.
Preparation: 10 mins
Cooking: 10 mins
Serves: 4
What you need:
225g dried split yellow peas
1/2 vegetable stock cube
1 onion, chopped
2 tbsp cold-pressed rapeseed oil
1 tsp ground cumin
1/2 tsp hot chilli powder
1 tbsp chopped coriander
What you do:
Place the peas, stock cube, onion and 1 litre of water in a large pan and bring to the boil. Cover and gently simmer for 40 minutes.
Meanwhile, mix the oil with the spices and herbs for the Moroccan drizzle.
Puree the soup with a hand blender until smooth. Serve with a drizzle of the Moroccan oil.
Cook's tip:
Try using sweet smoked paprika instead of chilli powder for a less spicy flavour.
This page can be found at: http://secretsauce.co.uk/vegetarian/soup-recipes/split-pea-soup-with-spicy-moroccan-drizzle/
A short link can also be used: http://bit.ly/1iRk3at
Rapeseed Oil Benefits

Rapeseed oil is produced from the oilseed rape plant. The versatility of this healthy oil is recognised by chefs, who value its taste, cooking performance and health benefits. Because of its low content of saturated fat and high content of monounsaturated and polyunsaturated fats, rapeseed oil is commonly used in cooking and in salad oils, salad dressings, mayonnaise, fats and margarine.
More from Rapeseed Oil Benefits

Packed with flavour and healthy too! Low in fat, saturated fat and sodium and provides one of your five-a-day.

The sun's shining so it's time to get the barbie out! Try this delicious kebab recipe and you won't want to let your guests in!

Take just 10 minutes out of your day to do a bit of prep and then 30 minutes later sit down with a cuppa and a delicious chocolate and cranberry brownie. Yum!
Popular in soup recipes

Spice up a simple tomato soup recipe with chilli and paprika, then serve with a dollop of sour cream and chive dip and warm crusty bread

This is such a great soup if you've just battled through wind and rain to get home. Serve with muffins or crusty bread

Healthy and full of vitamins, this soup is also a great winter warmer and it's made with soya, so it's vegan too!