Lemon chicken parcels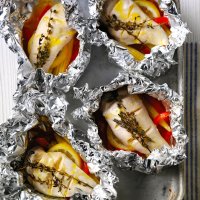 Packed with flavour and healthy too! Low in fat, saturated fat and sodium and provides one of your five-a-day.
Preparation: 15 mins
Cooking: 30 mins
Serves: 4
What you need:
1 red pepper, sliced
175g pack baby corn
1 lemon
4 skinless chicken breasts, scored
4 large sprigs of thyme
2 tbsp cold-pressed rapeseed oil
What you do:
Preheat the oven to 200oC, gas mark 6. Make 4 large squares of foil.
Divide the vegetables into four and place in the centre of each foil square. Halve the lemon and slice 1 half into 4, then place a slice on top of the vegetables in each foil square.
Top each with a chicken breast and lay a sprig of thyme over each. Scrunch up the foil, leaving a small vent in the centre. Juice the other lemon half and mix with the oil, drizzle over the chicken through each of the small vents.
Place each of the foil parcels on a baking tray and bake for 25-30 minutes until cooked throughout.
Cook's tip:
Vegetables such as courgettes, red onion and asparagus work well too.
This page can be found at: http://secretsauce.co.uk/meat-poultry/chicken-recipes/lemon-chicken-parcels/
A short link can also be used: http://bit.ly/HEAsUl
Rapeseed Oil Benefits

Rapeseed oil is produced from the oilseed rape plant. The versatility of this healthy oil is recognised by chefs, who value its taste, cooking performance and health benefits. Because of its low content of saturated fat and high content of monounsaturated and polyunsaturated fats, rapeseed oil is commonly used in cooking and in salad oils, salad dressings, mayonnaise, fats and margarine.
More from Rapeseed Oil Benefits

The sun's shining so it's time to get the barbie out! Try this delicious kebab recipe and you won't want to let your guests in!

Take just 10 minutes out of your day to do a bit of prep and then 30 minutes later sit down with a cuppa and a delicious chocolate and cranberry brownie. Yum!

A delightful family meal that is low in saturated fat and salt.
Popular in chicken recipes

For a quick and easy evening meal, chicken, leek and Cheddar bake, with melt in the mouth cheese, will be a firm family favourite that takes just 10 minutes to prepare

While you're getting this together, why not double up on the ingredients and freeze a lovely chicken and leek pie for another time?

Easy to prepare, these chicken dippers are perfect handed round at parties!