Pumpkin & spinach risotto with Gouda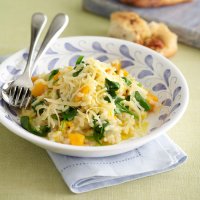 Dutch Gouda adds a wonderfully rich flavour to this sweet and creamy dish. Perfect served with a slice of crusty bread.
Preparation: 10 mins
Cooking: 20 mins
Serves: 4
What you need:
25 g (1 oz) unsalted butter
15 ml (1 tbsp) olive oil
1 onion, chopped
1 clove garlic, crushed
1/2 medium-sized pumpkin, peeled, deseeded and cut into 1cm cubes (about 350 g/ 12 oz)
325 g (12 oz) risotto rice (e.g. arborio or carnaroli risotto)
1 ltr (1 1/2 pt) hot vegetable or chicken stock
125 g (4 oz) baby leaf spinach
125g (4 oz) Original Dutch Gouda, grated
Salt and freshly ground black pepper
Crusty bread to serve
What you do:
In a large saucepan, melt the butter with the oil, then stir in the onion and garlic and cook for 2-3 minutes, until the onion has softened.
Stir in the pumpkin and cook for a further 3-4 minutes, until starting to brown. Add 60 ml (4 tbsp) of the stock, cover the pan and cook the vegetables for 5 minutes.
Add the rice and cook for 2 minutes. Then stir in the hot stock, in small amounts, until most of the liquid has been absorbed.
Stir in the Gouda cheese and season well with black pepper and salt. If more liquid is required, stir in hot water. The risotto is ready when the pumpkin and rice grains are tender.
Remove from the heat and stir in the spinach. Cover and allow it to wilt with the heat from the risotto. Serve immediately with extra grated cheese, freshly ground black pepper and a drizzle of olive oil.
This page can be found at: http://secretsauce.co.uk/vegetarian/risotto-recipes/pumpkin-and-spinach-risotto-with-gouda/
A short link can also be used: http://bit.ly/gJGAkl
Gouda

The delicious Dutch cheese which originates in the town of Gouda, close to Rotterdam, has a rich history which is matched by its rich creamy texture and sweet, nutty flavour. Gouda is packaged in a distinctive wheel shape and is covered in a yellow wax which makes it the ideal addition to brighten up any cheese board.
More from Gouda

The sweet taste of the roasted beetroot complements the creamy texture of the cheese perfectly – serve with crusty bread for a quick and easy starter or light lunch.
Popular in risotto recipes

A healthy and filling meal perfect for the family that you don't have to stand over while you make it, just keep checking it's moist!

Devised by celebrity chef Aldo Zilli, this mixed mushroom risotto costs under £1 per portion but doesn't compromise on taste!