Vegetable Jalfrezi
This is a very traditional dish and will work equally well with prawn, fish or chicken.
Serves: 4
What you need:
1 tbsp vegetable oil
¼ tsp cumin seeds
½ tsp chopped garlic
2 medium courgettes, washed and cut into 4cm batons
3 portobello mushrooms, cut in half and thick sliced
6-8 asparagus spears, peeled and cut into 4cm batons
8-10 baby corns, cut into quarters - lengthwise
4-5 tbsp of Seeds of Change Jalfrezi sauce
½ tbsp fine chopped coriander
What you do:
Heat oil in pan and sauté cumin seeds and garlic. As cumin seeds pop, add all the vegetables and sauté for 2-3 minutes, searing the vegetables
Add sauce and toss well to reheat
Sprinkle chopped coriander leaves and serve immediately
This page can be found at: http://secretsauce.co.uk/vegetarian/indian-recipes/vegetable-jalfrezi/
A short link can also be used: http://bit.ly/ggdQ1S
Seeds of Change

Seeds of Change's aim is to provide a range of good, honest food, full of taste and flavour that is also good for you. The range of delicious sauces, soups, pasta and cereal bars is organic and free of artificial additives and preservatives.
More from Seeds of Change

Creamy, delicious and filling - an easy and satisfying meal for the family

This is a great one-pot dish. Look out for good quality meat in your supermarket

This delicious rhubarb crumble recipe was created by gardener and celebrity Kim Wilde
Popular in indian recipes

An Indian meal wouldn't be complete without the traditional onion bhajis and they take just 25 minutes to prepare and cook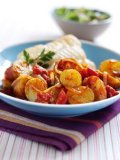 A delicious side dish to serve with any curry or Indian meal

Share these colourful, tasty dips and salsas with friends - perfect for eating al fresco