Spiced vegetable & coconut dahl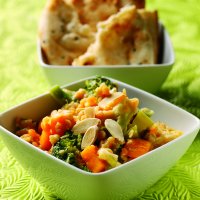 Other vegetables could be substituted in this recipe or added depending on your taste. This dish can also be either served on its own or part of an Indian meal.
Serve: 4
What you need:
1 tbsp sunflower oil
1 large green chilli - deseeded and diced
1 green pepper - deseeded and diced
2 cm (1 inch) fresh ginger root - peeled and grated
4 large spring onions - topped, tailed and sliced
200g (7oz) sweet potato - peeled weight, diced
200g (7oz) broccoli or cauliflower, broken into florets
175g (6oz) red lentils - washed
400ml (14 fl oz) vegetable stock
200ml (7 fl oz) Alpro soya Light alternative to milk
50g (2oz) coconut cream block
35g (1½ oz) toasted flaked almonds
What you do:
Heat oil in a large pan, fry chilli, green pepper, fresh ginger and spring onions for 2 minutes.
Add diced sweet potato, broccoli florets and lentils, fry for a further minute before adding the stock, Alpro soya Light alternative to milk and coconut block.
Bring to the boil and then reduce to a simmer for 20 - 25 minutes until the sweet potato and lentils are cooked, the mixture should be quite thick.
Season and serve topped with the toasted almonds accompanied with warm naan or coriander rice.
This page can be found at: http://secretsauce.co.uk/vegetarian/indian-recipes/vegetable-coconut-dahl/
A short link can also be used: http://bit.ly/emdbag
Alpro Soya

Alpro Soya creates delicious products for you to enjoy any time of the day. Made from the goodness of the whole soya bean, they are prepared with care and with the utmost respect for people and planet.
More from Alpro Soya

Don't just boil those potatoes - make them a dish in itself with this delicious traditional recipe

Looking for a vegetarian alternative for Christmas dinner? Try this traditional and delicious nut roast

Start the day with this substantial breakfast that will give you enough energy to last until lunchtime
Popular in indian recipes

An Indian meal wouldn't be complete without the traditional onion bhajis and they take just 25 minutes to prepare and cook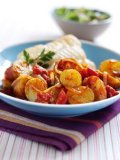 A delicious side dish to serve with any curry or Indian meal

Share these colourful, tasty dips and salsas with friends - perfect for eating al fresco