Pate Campagne with your favourite chutney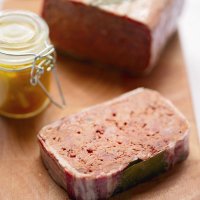 Home made pate is delicious and is very easy to make - especially if you ask your butcher to mince the meat for you. Please note it needs to be made the day before eating.
Makes: 1 terrine
What you need:
500 gms trimmed venison (pork shoulder or rabbit or a mix)
250 gms chicken livers
275 gms fatty belly pork
250 gms white bread, crusts removed
250 mls milk
3 egg yolks
5 bay leaves
50 mls brandy and 50 mls gin
250 gms thinly sliced pancetta or bacon
Herb & spice mix
Zest of ½ small orange
1 tbsp sea salt
1 tsp pink salt
1 tbsp thyme leaves
1 tsp freshly grated nutmeg
2 sp freshly milled black pepper
1 tsp freshly crushed juniper berries
2 bay leaves
What you do:
Preheat the oven to 160⁰C. Grind the spice mix in a coffee grinder and reserve. Dice the venison or meat mix you desire, and trim the chicken livers, combine the meat with the spice mix and reserve.
Soak the bread with the milk until all the milk has soaked up. Line a terrine that has a lid with oil first and then cling film with plenty of overhang, then lay the whole bay leaves along the bottom followed by the pancetta, overlapping slightly from end to end, also with a overhang. Set up a mincer and mince the meat mixture and the bread twice through a small die, mix in the egg yolks, brandy and gin and finally pack in the lined terrine, fold over the pancetta and clingfilm and pop on the lid.
Cook in a bain marie in the oven for 2 hours or until the centre has reached 72⁰C on a probe thermometer. Cool slightly then press overnight with some heavy weights or clean bricks in the fridge. Slice and serve with toast points not forgetting a pot of your favourite chutney.
This page can be found at: http://secretsauce.co.uk/meat-poultry/pate-recipes/pate-campagne/
A short link can also be used: http://bit.ly/dUPVx1
The Tilbury
Paul Bloxham is chef patron at
The Tilbury
pub and dining rooms in Datchworth, Hertfordshire
More from The Tilbury

Have you ever had savoury panna cotta? This one's a fantastic started and served with sweet and sour tomatoes and cashew biscuits