Poached salmon with quick Caesar salad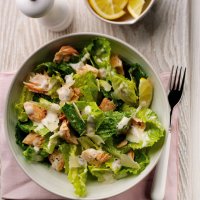 Romaine is the leaf for the Caesar salad. Its refreshing crunchy leaves add great texture and the surface of the leaves are perfect for holding the dressing.
Preparation: 10 mins
Cooking: 15 mins
Serves: 2
What you need:
2 salmon fillets (300g)
5 anchovy fillets in olive oil, drained and finely chopped (20g)
1 clove garlic, crushed
2 tbsp low fat mayonnaise (50g)
3 tbsp semi skimmed milk
25g Parmesan cheese
1 whole Romaine heart, leaves separated and roughly torn (200g)
What you do:
Poach the salmon in boiling water for 10-12 minutes, remove and cool slightly before breaking into large flakes.
Mix together the anchovies, garlic, mayonnaise, milk and half the Parmesan, finely grated.
Toss the Romaine leaves in the Caesar dressing, top with the salmon flakes. Shave the remaining Parmesan and scatter over the salmon and serve.
Cook's tip:
Try using cos or little gem lettuce instead of Romaine.
This page can be found at: http://secretsauce.co.uk/fish-seafood/salmon-recipes/poached-salmon-with-quick-caesar-salad/
A short link can also be used: http://bit.ly/14IVAzr
British Leafy Salads Association

Gone are the days when a salad consisted of no more than a tomato and cucumber with a few leaves on the side. Thanks to the growing, production and distribution cycle and the introduction of many different types of salad leaves which are now grown in the UK, a salad can be a tasty and satisfying meal, a refreshing snack or a sumptuous starter.
More from British Leafy Salads Association

Sweet, earthy beetroot and tangy goats cheese are a classic combination.

Quick and easy to make and full of flavour, this dish will be sure to impress.

Dean says: 'This makes a fantastic veggie meal and it's ready in less than 15 minutes!'
Popular in salmon recipes

Lemon perfectly complements salmon so you might just have found your perfect tart recipe!

A fantastic flavour pairing by top London chef Theodore Kyriakou who says: 'I like eating the salmon pink in the middle with some rice pilaf.'

You need just three main ingredients for this easy family dish - salmon, pastry and onions