Tenderstem broccoli & chickpea frittata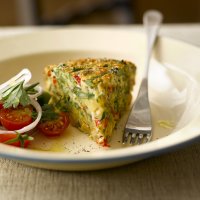 This is a cheap but tasty family meal that's easy to throw together after work but will keep everyone full and happy!
Serves: 4
Prep time: 5 mins
Cooking time: 35 mins
What you need:
175g Tenderstem® broccoli, each stem cut in half
2 tbsp olive oil
½ medium red onion, finely chopped
1 medium red pepper, finely chopped
1 large clove garlic, finely chopped
½ tsp smoked paprika
125g chickpeas, cooked/drained
2 tbsp coriander, finely chopped
7 large eggs, lightly beaten and well seasoned with sea salt & black pepper
What you do:

Heat Oven to Gas 5/190C/375 F
Parboil the Tenderstem for 2-3 minutes, drain and reserve.
Heat 1 ½ tbsp oil in a large frying pan and sauté the red onion and pepper for 5 minutes until soft. Add the garlic, paprika and chickpeas and cook for a further 2 minutes before adding the coriander.
Spread the sauté mixture over the base of a lightly greased ceramic baking dish (approx 26 x 16 cm) or a 7" loose bottomed cake tin. Place the broccoli on top in rows or spokes and pour over the beaten eggs and bake for approx 25 minutes or until set.
This page can be found at: http://secretsauce.co.uk/vegetarian/frittata-recipes/tenderstem-broccoli-chickpea-frittata/
A short link can also be used: http://bit.ly/fIIFwM
Tenderstem
Tenderstem is a vegetable that's sweet, packed with good things and cooks in moments. And, because it's delicious from stem to tip, nothing needs to be discarded.
More from Tenderstem

Enjoy this delicious spaghetti dish created by Italian chef and owner of Zilli restaurants, Aldo Zilli

Halloumi's salty flavour is the perfect match for sweet cherry tomatoes and smooth Tenderstem broccoli

Lesley says: 'Tenderstem® Broccoli is perfect for stir-frying, it's rich in iron, vitamin C and folic acid. Roasting the duck on a rack with salt will ensure the skin goes really crispy.'
Popular in frittata recipes

A frittata is like a savoury cake or big omelette and this delicious mushroom and rocket version has been devised by celebrity chef Gino D'Acampo. Serve it in slices warm or cold with a nice crisp salad.

This is a great recipe for using up leftovers and it's ready in just 25 minutes so a good one to choose for your evening meal

A great-tasting, simple dinner option that's easy to make and tickles the tastebuds!