Braised red cabbage with redcurrant jelly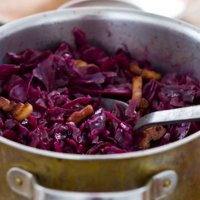 This is such a lovely accompaniment to all sorts of meat dishes, but particularly your Christmas turkey!
What you do:
80g butter
1 medium onion, diced
1 garlic clove, crushed
1 red cabbage (approx 1kg), finely sliced
200ml red wine
50ml red wine vinegar
50ml port
Juice of 1/2 orange
Juice of 1/2 lemon
60g Demerara sugar
100g Tracklements Redcurrant Jelly
50g smoked lardons pan fried until crisp
salt and pepper
spice bag: ½ cinnamon stick, 1 orange peel, 1 clove, 3 black peppercorns, 3 sprigs of thyme and 1 bay leaf.
What you do:
Preheat the oven to 160°C/320°F gas mark 3.
Heat the butter in a large casserole dish and cook the onions and garlic on a medium heat until soft and transparent. Add the red cabbage and cook for approx. 5 mins until slightly softened.
In a separate pan, mix together the red wine, red wine vinegar, port, lemon and orange juice, Demerara sugar and Redcurrant Jelly. Gently heat until warmed through. Add the liquid to the casserole. Add the spice bag, cooked lardons and season. Oven cook for 1hr 30 mins to 2 hours. Check the seasoning, remove and leave to cool.
Remove the spice bag before serving.
This page can be found at: http://secretsauce.co.uk/vegetarian/christmas-recipes/braised-red-cabbage-redcurrant-jelly/
A short link can also be used: http://bit.ly/e3HBmT
Tracklements

Tracklements is driven by the twin aims of producing the best chutneys, mustards and preserves on the market, tasting as good as the best home-made, and of making it traditionally, in small batches, with all natural ingredients.
More from Tracklements

Leek and onion is a fantastic accompaniment to sea bass, just add it to the pan with the fish - it couldn't be easier!

It may sound like an unusual pairing, but goats' cheese is delicious with fig relish and you could even make smaller versions of these for canapes

This salmon dish is really easy to make and has a lovely sweet Thai sauce to really bring out the flavour of the fish
Popular in christmas recipes

Looking for a vegetarian alternative for Christmas dinner? Try this traditional and delicious nut roast

A fabulous centrepiece for your Christmas table

This dish is a great way to use up any leftovers from Christmas day. It's delicious hot or cold and would make a good addition to a buffet.