Puff twists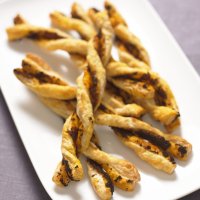 Great to hand round before dinner parties to whet your guests' appetites and really easy to make
Makes: 20
What you need:
1 pack Jus-RolTM Puff Pastry Sheets - thawed
Beaten egg to glaze
3 x 15ml / 3 tbsp. tapenade OR pesto
25g / 1oz finely grated Parmesan Cheese
What you do:
Preheat oven to 220oC (200oC for fan assisted ovens ) 425oF/Gas M 7
Unroll one pastry sheet, brush lightly with beaten egg and then spread surface with tapenade. Fold pastry in half across length and then cut into strips down length. you should get 10 strips.
Holding each end of the strip between your thumb and forefingers, twist in opposite directions to form a fairly tight twist. place on a lined baking sheets pressing ends firmly down, Repeat with remaining strips. Brush pastry with beaten egg and bake for approx. 12 minutes until golden brown.
With second sheet, brush with beaten egg then scatter evenly with grated cheese and proceed as above.
This page can be found at: http://secretsauce.co.uk/vegetarian/canape-recipes/puff-twists/
A short link can also be used: http://bit.ly/e2jD5Y
Jus-Rol

Jus-Rol is the UK's pioneering pastry company, committed to providing the highest quality chilled and frozen pastry products. The product range includes ready rolled pastry sheets in both puff and shortcrust pastry, pastry blocks, as well as individual puff pastry rounds, large shortcrust pastry cases and handy pie lids.
More from Jus-Rol

A delicious, fruity dessert - the best in comfort food and just mouth-watering served with a big dollop of creamy custard

This chicken, pesto and spinach tart looks so delicious it seems a shame to cut into it! But once you do, don't expect it to be there for long!

A delicious quick and easy open tart, perfect for a summer lunch or picnic
Popular in canape recipes

For those a little bored with traditional Christmas flavours, these brie and mango chutney parcels will make a delicious change

If you're having a Mexican party or want to make canapes that are a bit different to impress your guests, these Peppadew guacamole ones will do the job perfectly!

Delicious brie and cranberry canapes, perfect for entertaining