Mixed spice muesli with a trio of toppings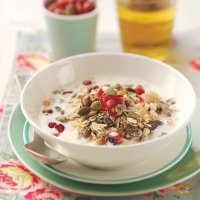 Make a batch at the weekend - then ring the topping changes through the week
Preparation: 10 mins
Serves: 3
What you need:
Muesli
125g jumbo oats
75g sultanas
1/2 tsp mixed spice
30g bran flakes
50g toasted flaked almonds
25g sunflower seeds
Topping 1
2 tbsp dried cranberries (30g)
1 tbsp pistachio nuts, roughly chopped (15g)
Topping 2 (summer option)
25g blackberries
25g raspberries
Topping 3
25g pomegranate seeds
1 tbsp pumpkin seeds (15g)
What you do:
To make the muesli, mix all the ingredients in a bowl until well combined. Store in an airtight container.
To serve, pour a 1/3 of the muesli in a bowl, add milk according to preference and sprinkle over the topping of your choice.
Cook's tip:
You can also ring the changes by adding seasonal fruits such as strawberries in summer and chopped Cox's apples in September.
This page can be found at: http://secretsauce.co.uk/vegetarian/breakfast-recipes/mixed-spice-muesli-with-a-trio-of-toppings/
A short link can also be used: http://bit.ly/sHycr7
Farmhouse Breakfast Week 2012

Time to Shake Up Your Wake Up? Then look no further. To celebrate Farmhouse Breakfast Week (22-28 January 2012) we've put together some really tasty yet speedy breakfast ideas for you and your whole family to enjoy. For more quick and easy recipes visit: www.shakeupyourwakeup.com/breakfast
More from Farmhouse Breakfast Week 2012

Quick, simple and tasty too - no excuse not to make time for breakfast now!

A tasty brunch recipe the whole family can enjoy

Provides all the energy active mums need
Popular in breakfast recipes

This is a really healthy, good for you breakfast that tastes delicious too with fruit mixed berries and sweet strawberry yoghurt

If you're sporty or need a good breakfast before going to the gym or doing other exercise, this staffordshire oatcakes with eggs dish will keep you full of energy

Quick, simple and tasty too - no excuse not to make time for breakfast now!